ENGLISH
This weekend, I have been … resting!! Haha 😆 .
In the entire last week somehow I felt tired. I mean, I had enough energy to work and do all my other daily activities (including some exercises almost everyday), but I just felt tired. Even during my tennis lesson, my eye-hand coordination was definitely worse than usual, where it took my body extra effort to perform how my mind would like myself to play, haha. And then I realized that, indeed, it has been awhile since the last time I had a full weekend to recover and recharge myself!
In fact, it has been four weeks! Three weeks ago, I went on two trips in the same week (to Copenhagen and to Bologna; their posts are going to be published soon 😉 ). Then two weekends ago I had to assemble my new IKEA stuffs. And then last week I went on a weekend trip to Nice (the post will follow the two posts above 😉 ). While the trips were certainly fun (and good for my mind), my body did not get the (physical) rest it really deserved.
So coming to this weekend, this was basically how I felt: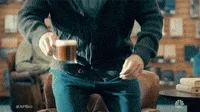 Haha 😆
Even though, of course it was not like I did nothing for the whole weekend and just slept for the entirety of it. I still managed to clean my kitchen on Saturday, where I really cleaned it especially the stubborn grease (with the help of vinegar; and this Saturday I realized I had never used the vinegar since I bought it months ago, lol 😆 . I guess vinegar is indeed very useful for matters way beyond cooking 😛 ). I also went to the gym on Sunday, as it was freezing outside this weekend (with real feel of –6°C 😅) so outdoor activity did not sound really fun! So overall it has been quite a productive weekend in my opinion, haha 🙂 .
And now, I am ready to embrace the coming week! 🙂
BAHASA INDONESIA
Akhir pekan ini, yang aku lakukan adalah … beristirahat!! Haha 😆 .
Jadi satu minggu penuh kemarin ini aku merasa capek. Maksudku, aku masih cukup berenergi untuk bekerja dan melakukan aktivitas sehari-hariku lainnya sih (termasuk berolahraga hampir setiap hari), tetapi aku merasa capek gitu. Bahkan di les tenisku minggu kemarin ini, koordinasi mata-tangan-ku jauh lebih buruk daripada biasanya deh, dimana tubuhku harus mengeluarkan effort lebih banyak untuk melaksanakan bagaimana otakku ingin aku bermain, haha. Dan kemudian aku baru sadar, bahwa ternyata memang sudah cukup lama juga semenjak terakhir kali aku memiliki satu akhir pekan penuh untuk beristirahat dan memulihkan diriku kembali!
Tepatnya, sudah empat minggu! Tiga minggu yang lalu, aku pergi dalam dua perjalanan di dalam satu minggu (ke Kopenhagen dan Bologna, posting-posting-nya akan segera aku publikasikan 😉 ). Lalu dua akhir pekan yang lalu aku harus memasang sendiri mebel-mebel baru IKEAku. Dan kemudian minggu lalu aku pergi dalam sebuah perjalanan akhir pekan ke Nice (posting-nya akan menyusul dua posting di atas 😉 ). Walaupun perjalanan-perjalanan itu seru dan asyik (dan baik sih untuk pikiran), tetapi kan badanku jadi tidak mendapatkan kesempatan untuk beristirahat ya.
Jadilah ketika memasuki akhir pekan ini, kurang lebih begini lah perasaanku: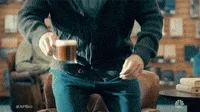 Haha 😆
Walaupun tentu saja sih bukan berarti aku sama sekali nggak ngapa-ngapain di akhir pekan ini dan cuma tidur saja. Aku masih sempat membersihkan dapur di hari Sabtu, dimana aku benar-benar membersihkannya terutama dari bekas-bekas minyak membandel (dengan bantuan cuka; dan Sabtu kemarin ini aku baru sadar aku baru pertama kali ini menggunakan cuka yang aku beli beberapa bulan yang lalu, haha 😆 . Ternyata memang ya cuka itu berguna untuk hal-hal lebih dari sekedar urusan masak-memasak 😛 ). Aku juga pergi ke gym di hari Minggu, soalnya suhu di luar dingin banget nih akhir pekan ini (real feel-nya –6°C 😅) sehingga bikin malas untuk beraktivitas di luar kan ya, haha. Jadi secara keseluruhan rasanya aku bisa bilang bahwa akhir pekan ini cukup produktif menurutku, haha 🙂 .
Dan sekarang, aku merasa siap untuk menghadapi minggu yang baru! 🙂