ENGLISH
I went to Schiphol last Friday afternoon; but this trip was not like any others. I didn't go to the airport terminal for a flight to start a weekend trip somewhere nor to pick someone up. Instead, I went to the Schiphol-Oost area where the KLM Engineering and Maintenance department was located.
I don't make it discreet that I love planes and flights. And it happens that the husband of a friend of mine works at KLM. And so he invited his wife and me to come visit him at Schiphol-Oost where he would give us a quick tour including to the KLM's maintenance hangars! In the inside, I was like: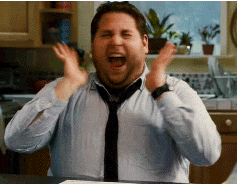 because it would be my first time ever to visit a plane hangar! Huahaha 🙈.
Anyway so my friend and I took an Uber after work on Friday, where we had an interesting conversation with the driver about politics and history, lol 😆 . The traffic was quite bad at Amsterdam due to the Dodenherdenking (the National Remembrance Day) so it took us a bit longer to Schiphol-Oost than expected, where my friend's husband was already waiting for us at the entrance.
Long story short, after getting the visitor badges, we entered the KLM Engineering and Maintenance complex. As expected, the complex was really large! Haha 😆 . We were first taken to the office of my friend's husband which was in the same building as where the engines maintenance and repair were done. There were many engines being maintained and repaired at the time, and they weren't only KLM's; as I saw Jet2's, United's, and Vietnam Airlines' engines too.
We then walked to the hangars. We were lucky that the weather was amazing this afternoon! I saw two Vueling's Airbus A320s and a KLM's brand new Boeing 787-9 Dreamliner reg PH-BHO being parked. At the time, three of KLM's wide-body birds, an Airbus A330-200 reg PH-AOD, a Boeing 777-200ER reg PH-BQD, and a Boeing 747-400 Combi reg PH-BFH, were on the engines testing stage. They were parked just outside the hangar in an area enclosed with tall jet-blast deflectors. It was PH-BFH's turn for the test and it was amazing to be able to experience first hand the noise the Queen of the Skies' engines could produce! Haha 😆 .
We then entered one of the hangars which was, of course, very large in size is it could fit two wide-body planes. This hangar was empty at the time so we walked to the next one. I was excited because I saw the SkyTeam livery which meant: it was KLM's Boeing 777-300ER reg PH-BVD at the next hangar! There were two planes at this hangar, as KLM's Airbus A330-200 reg PH-AOA was also there. But of course I was more interested with PH-BVD as I was secretly hoping to be able to take a photo with one of its GE90-115B engines, which was the most powerful commercial jet engine; and it happened to also be PH-BVD with the beautiful SkyTeam livery! 😀
The next hangar was also empty and so we went to the next one after that, which was much larger in size and could accommodate more planes. A KLM's Boeing 787-9 Dreamliner reg PH-BHD was there. I have flown PH-BHD before, btw, on my KL605 flight from Amsterdam to San Francisco just this December.
The "tour" finished here as we walked back to a parking space near the entrance. In conclusion, it was such a nice tour especially for me! First of all, I got "unusual angles" to see the planes, haha. Then, and more interestingly, I got a peek on the backstage of an airlines' operation. On top of that, of course, I gained a lot of new knowledge about the operation too, which really, really excited me! 😀
BAHASA INDONESIA
Aku pergi ke Schiphol Jumat siang yang lalu; tetapi perjalanan ini tidaklah seperti perjalanan lainnya. Aku tidak pergi ke terminal bandaranya untuk mengejar penerbangan untuk sebuah perjalanan akhir pekan kemana gitu, ataupun bukan pula untuk menjemput seseorang di bandara. Aku pergi ke area Schiphol-Oost dimana departemen KLM Engineering and Maintenance berada.
Aku tidak menutup-nutupi bahwa aku suka dengan yang namanya pesawat dan penerbangan. Dan kebetulan banget suaminya seorang temanku di kantor bekerja di KLM. Jadilah suatu ketika ia mengundang istrinya dan aku untuk mengunjunginya di Schiphol-Oost dimana dia akan mengajak kami berkeliling untuk sebuah tur mini termasuk untuk mengunjungi hanggar-hanggar perawatan pesawatnya KLM! Jadilah di dalam hati aku bereaksi: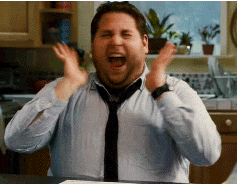 karena ini akan menjadi kali pertamaku mengunjungi yang namanya hanggar pesawat! Huahaha 🙈.
Anyway jadilah sepulang kerja di hari Jumat aku dan temanku naik Uber, dimana kami terlibat dalam percakapan mengenai politik dan sejarah dengan sopirnya, haha 😆 . Lalu-lintas hari itu lumayan ramai di Amsterdam akibat Dodenherdenking sehingga perjalanannya memakan waktu sedikit lebih lama. Setibanya di Schiphol-Oost, suaminya temanku sudah menunggu kami di pintu masuk.
Singkat cerita, setelah mendapatkan pas masuk pengunjung, kami memasuki kompleks KLM Engineering and Maintenance. Seperti yang aku sangka, kompleks-nya luas banget! Haha 😆 . Pertama-tama kami diajak ke kantornya suami temanku yang mana berada di gedung yang sama dengan tempat perawatan dan perbaikan mesin. Waktu itu ada banyak mesin yang sedang dirawat dan diperbaiki, dan mesin-mesinnya bukan hanya milik KLM; dimana aku juga melihat mesin-mesinnya Jet2, United, dan Vietnam Airlines.
Kami kemudian berjalan ke hanggarnya. Beruntung banget cuaca siang itu cerah banget! Ada dua Airbus A320nya Vueling dan satu Boeing 787-9 Dreamliner barunya KLM dengan rego PH-BHO yang diparkir di sana. Waktu itu, tiga pesawat badan lebarnya KLM, sebuah Airbus A330-200 rego PH-AOD, sebuah Boeing 777-200ER rego PH-BQD, dan sebuah Boeing 747-400 Combi rego PH-BFH, sedang dalam tahap pengecekan mesin. Ketiganya diparkir di depan hanggar di area yang dilengkapi dengan deflektor jet-blast yang tinggi banget. Waktu itu adalah gilirannya PH-BFH untuk dites dan keren banget rasanya bisa merasakan tingkat keberisikan yang bisa dihasilkan oleh mesin Queen of the Skies ini! Haha 😆 .
Kami kemudian memasuki salah satu hanggarnya yang mana, jelas, berukuran besar banget dan muat untuk dua pesawat berbadan-lebar. Hanggar ini kosong waktu itu dan jadilah kami berjalan ke hanggar di sebelahnya. Aku merasa excited karena aku melihat livery SkyTeam yang berarti: Boeing 777-300ER rego PH-BVDnya KLM! Ada dua pesawat di hanggar ini, dimana Airbus A330-200 PH-AOAnya KLM juga sedang berada di sana. Tapi jelas aku lebih tertarik dengan PH-BVD karena sebenarnya aku berharap bisa berfoto dengan salah satu mesim GE90-115B-nya Boeing 777-300ER, yang mana merupakan mesin jet yang paling kuat! Kebetulan pula pesawatnya adalah PH-BVD dengan livery SkyTeam yang kece banget itu kan!
Hanggar sebelahnya juga kosong sehingga kami pergi ke yang sebelahnya lagi, yang berukuran lebih besar dan bisa muat lebih banyak pesawat. Boeing 787-9 Dreamliner-nya KLM dengan rego PH-BHD berada di sana. Aku pernah terbang dengan PH-BHD sebelumnya loh, yaitu di penerbangan KL605 dari Amsterdam ke San Francisco Desember kemarin ini.
"Tur"-nya selesai di sini dimana kami kemudian berjalan ke tempat parkir mobil di dekat pintu masuk. Kesimpulannya, tur ini seru banget deh untukku! Pertama-tama, aku mendapatkan "sudut yang tidak biasa" untuk melihat pesawat-pesawat itu, haha. Kemudian, dan menariknya, aku bisa mengintip sisi backstage dari operasional sebuah maskapai. Dan tentu saja aku juga mendapatkan banyak pengetahuan baru yang mana sangat amat menarik! 😀