ENGLISH
So yesterday was when the Daylight Saving Time (DST) officially kicked in in Europe, when the time was moved forward by one hour from 2 AM to 3 AM. This meant there were only 23 hours this Sunday.
I have mentioned here a few times that this is my less favorite DST of the year. And especially so this year because yesterday my Spring trip started! When I booked my ticket this January, I didn't consider the DST and so I ended up with a morning flight departing out of Schiphol at 08:35 AM to start the trip! Lol 😆
And so to avoid this, which was a real risk that should never be underestimated: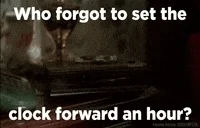 (Forgetting to move the clock forward by an hour on a Spring DST like this Sunday would cause your alarm set at 4 AM to only beep at 5 AM due to the time change), I decided to spend a night at Schiphol on the evening prior to the trip. This way, the risk would be much lower. Plus, it would be less of a hassle for me because I would already be at the airport in the morning of departure. I would not need to worry about getting to Schiphol at the ungodly early hours on a Sunday, haha 😆 .
Having said that, this trip actually made the DST really unique. You know, my Sunday was supposed to be 23 hours in length. But my flights that day made my Sunday be 30 hours in length, due to the seven hours time difference between the Netherlands and Louisiana, haha. This was similar to my latest Winter Solstice when I was flying from Amsterdam to San Francisco that day. A day that was supposed to be short actually became (much) longer 😛 .
BAHASA INDONESIA
Kemarin adalah Daylight Saving Time (DST) di Eropa, dimana waktu dimajukan satu jam dari jam 2 subuh ke jam 3. Ini berarti hari Minggu kemarin hanya terdiri atas 23 jam saja.
Sudah beberapa kali kusebutkan bahwa DST ini adalah DST yang tidak aku sukai. Terutama tahun ini sih karena kebetulan kemarin adalah permulaan dari perjalanan musim semiku! Ketika tiketnya aku booking Januari ini, aku tidak mempertimbangkan DST sama sekali dan jadilah aku mendapatkan tiket keberangkatan dari Schiphol di pagi hari jam 08:35 pagi dong! Haha 😆 .
Dan untuk mencegah yang berikut ini kejadian, yang mana merupakan risiko yang jangan pernah disepelekan lho: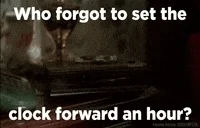 (Lupa memajukan jam selama satu jam di hari DST musim semi seperti hari Minggu kemarin menyebabkan alarm yang disetel jam 4 pagi untuk baru berbunyi jam 5 pagi karena pergeseran waktu), aku memutuskan untuk menginap di Schiphol semalam sebelum perjalanannya dimulai. Dengan begini, risikonya menjadi lebih kecil. Ditambah lagi, ini jelas lebih praktis karena aku sudah berada di bandara di pagi keberangkatan. Aku tidak perlu untuk pusing-pusing mencari cara untuk berangkat ke Schiphol di pagi-pagi buta di hari Minggu kan ya, haha 😆 .
Walaupun begitu, perjalanan ini justru membuat DST kali ini unik loh. Jadi seharusnya hari Mingguku memiliki panjang 23 jam kan. Tapi penerbangan-penerbanganku hari itu membuat hari Mingguku menjadi berpanjang 30 jam, karena perbedaan waktu tujuh jam antara Belanda dan Louisiana, haha. Mirip-mirip nih dengan Winter Solstice terakhirku ketika aku terbang dari Amsterdam ke San Francisco hari itu. Suatu hari yang seharusnya pendek menjadi (jauh) lebih panjang 😛 .