ENGLISH
The grass is greener on the other side
is a very popular proverb which I am sure you must have heard of. I asumme that you all know the meaning of this proverb. You know, like a "prerequisite" of this post, haha. Anyway, for long I have been reflecting on the "scope" of this proverb, especially the "other side" part.
The most common "interpretation" of the proverb that I have read or heard is that it is used in the context of "differences" (whatever those might be) between two different individuals. For instance, when someone is envious of another one's "success", often this proverb is used as a reminder to the envious individual. However, I have been (for long) thinking that the "scope" is actually larger than that. And by "larger", I mean, it also seems to hold for "differences" within an individual.
You see, life is full of decision-making; a lot are "trivial" (like what I want to do after finishing the first draft of this post) and a few are "instrumental" (like what I want to do with my life). In the end, a (long) sequences of these decisions would eventually become our path in life. Each decision brings its own consequence(s), both good and bad. Btw, being afraid of making a decision hence deciding not to make one is also a decision, also with its own pros and cons.
Anyway, sometimes we look back to the decisions we have made in the past. It is human to wonder what our lives would have been like had we chosen the other option(s) during some of those decision-making moment. And sometimes, it is "easy" to think that life would have been better/more pleasant/happier had we done that. Now, wouldn't this proverb actually apply to this "thought" as well?
The "better/more pleasant/happier" thought might be the "green" that is the result of comparing only the positives of the hypothetical life with the negatives of the "real" life. If this is the case, then I think it is important to understand that this is the case. Otherwise, it might lead to a regret; an unfortunate one, actually, because I feel like this is an "unnecessary" regret for someone to have.
What do you think?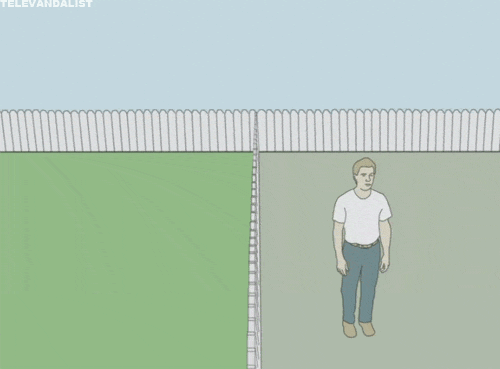 BAHASA INDONESIA
Rumput tetangga selalu nampak lebih hijau
adalah pepatah popular yang aku cukup yakin sudah kita dengar. Aku asumsikan kita semua tahu makna di balik pepatah ini. Pengetahuan akan makna ini adalah "materi wajib" lah untuk posting ini, haha. Anyway, sudah lama aku berefleksi akan "cakupan" dari pepatah ini, terutama di bagian "tetangga"-nya.
"Interpretasi" paling umum yang aku baca atau dengar adalah pepatah ini digunakan dalam konteks "perbedaan" (apa pun itu) antara dua individu yang berbeda, mungkin akibat kata "tetangga" di dalamnya yang berinterpretasi "orang lain". Misalnya, ketika seseorang iri akan "kesuksesan" seorang lain, sering pepatah ini digunakan untuk mengingatkan orang yang iri ini. Namun, sudah lama aku berpikir bahwa "cakupan" pepatahnya sebenarnya lebih luas dari itu. Dan dengan "lebih luas, maksudku adalah nampaknya pepatahnya juga berlaku untuk "perbedaan" di dalam seorang individu.
Hidup ini kan penuh dengan keputusan yang harus dibuat ya; mulai dari yang "retjeh" (Seperti apa yang akan aku lakukan setelah menyelesaikan draft posting ini) sampai yang "penting banget" (Seperti apa yang ingin kulakukan dengan hidupku). Pada akhirnya, deretan (panjang) dari keputusan-keputusan ini akan menjadi jejak hidup kita. Setiap keputusan membawa konsekuensi(-konsekuensi)-nya masing-masing, baik itu positif maupun negatif. Btw, takut untuk membuat keputusan sehingga memutuskan untuk tidak memilih juga lah sebuah keputusan loh, tentu dengan pros dan cons-nya juga.
Anyway, terkadang sebagai manusia kita melihat kembali akan keputusan-keputusan yang sudah kita buat di masa lalu. Rasanya manusiawi ya untuk berandai-andai akan jadi seperti apa hidup kita andaikata kita memilih pilihan yang lain ketika membuat keputusan-keputusan itu. Dan terkadang, "mudah" untuk berandai-andai bahwa hidup akan lebih enak/asyik/sukses andaikata kita dulu memilih keputusan yang lain itu. Nah, bukan kah pepatah ini juga cocok untuk "pikiran" semacam ini?
Pikiran "lebih enak/asyik/sukses" ini mungkin adalah "hijau"-nya yang disebabkan oleh pembandingan sisi positif dari kehidupan yang cuma bayangan itu dengan sisi negatif dari kehidupan "nyata" kita. Dan jika memang demikian, aku rasa penting sekali untuk menyadari demikian. Jika tidak, ini akan menimbulkan rassa "penyesalan"; rasa penyesalan yang sungguh bisa disesalkan, menurutku, karena aku rasa ini adalah rasa penyesalan yang sebenarnya "tidak perlu".
Bagaimana menurut kalian?