ENGLISH
I have mentioned before that for my year end trip this year, I am going to … Canada!!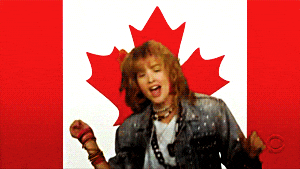 But the question is, where in Canada because Canada is certainly a big country, haha.
Well, I thought because the very trigger of my action of applying for the visa was my thought of going to the Niagara Falls, I thought it would be appropriate to actually go to Niagara Falls for my first trip to Canada! Haha 😛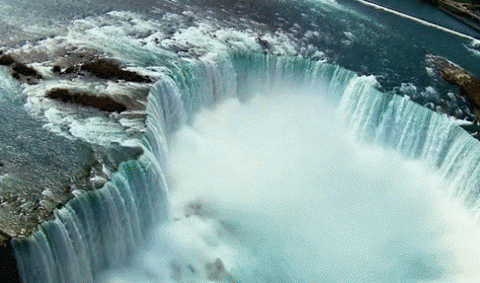 Beautiful, isn't it? Even though I realize given that I am going in the winter, probably it's going to look more like this instead: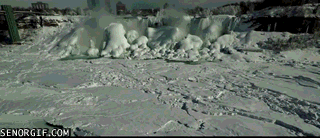 which, if you ask me, also looks beautiful, in its own way, in my opinion (I mean, a frozen great waterfall, isn't that awesome? Haha 😛 ).
But of course from Amsterdam I must fly to somewhere first before making my way to the Falls (which, btw, is located in a city called … well, Niagara Falls, haha). But I had known that the Falls was located not that far away from Toronto. So it was easy for me to know that my "main" destination (flight-wise, at least) of this trip would be this Canadian metropolitan city.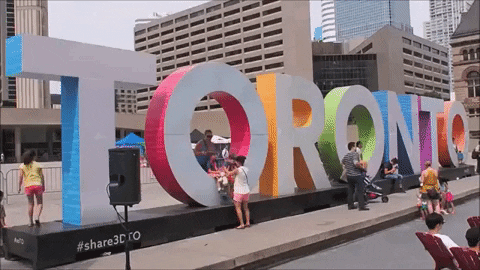 From an avgeek and someone who is based in Amsterdam's point of view, Toronto is also an exciting destination because KLM operates one of its two daily flights there with a Boeing 747-400 from Amsterdam (gotta fly them while you can (before they get retired)!) while Air France operates its flight to Toronto this winter with their brand new Airbus A350-900! And on this trip, I got both! With good timing as well where I got the day flight to Toronto with the Boeing 747-400 (so the dry(ier) air wouldn't bother me that much) leaving the A350-900 on the way back.
And that's it, the destinations of this year's year end trip are "only" Toronto and Niagara Falls. This also means that this trip will be the shortest year end trip I have had since … 2013 (when at the time I went to West England for a total of one week 😀 ). Nonetheless, I still think this trip is going to be fun and exciting! 😀
BAHASA INDONESIA
Aku sudah sebutkan sebelumnya bahwa untuk perjalanan akhir tahunku kali ini, aku akan pergi ke … Kanada!!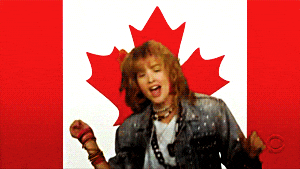 Tapi pertanyaannya, kemana di Kanada karena Kanada kan negara yang besar ya, haha.
Yah, kupikir karena pemicu tindakanku untuk mengajukan permohonan visanya adalah keinginanku untuk pergi ke Air Terjun Niagara, aku kira cocok lah ya Air Terjun Niagara ini menjadi tema dari perjalanan pertamaku ke Kanada! Haha 😛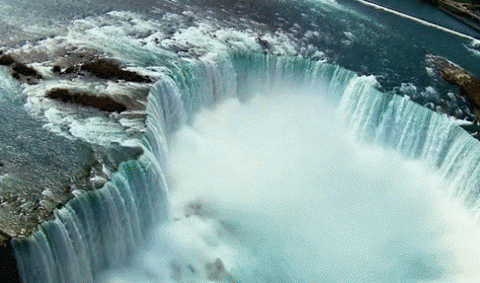 Cakep ya? Walaupun aku sadar betul sih karena aku perginya di musim dingin, mungkin air terjunnya bakal lebih nampak seperti ini: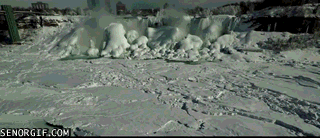 yang mana, menurutku, masih kece-kece aja ya (Ya kan air terjun besar yang membeku gitu keren nggak sih? Hahaha 😛 ).
Tapi tentu saja dari Amsterdam aku harus terbang dulu ke suatu tempat sebelum pergi menuju air terjunnya (yang mana, btw, berlokasi di sebuah kota yang bernama … Niagara Falls (Air Terjun Niagara), haha). Tapi aku sudah tahu lama sih bahwa air terjun ini berlokasi tidak begitu jauh dari Toronto. Jadilah mudah bagiku untuk memutuskan bahwa kota metropolitannya Kanada ini akan menjadi tujuan "utama"-ku (seenggaknya dari segi penerbangan).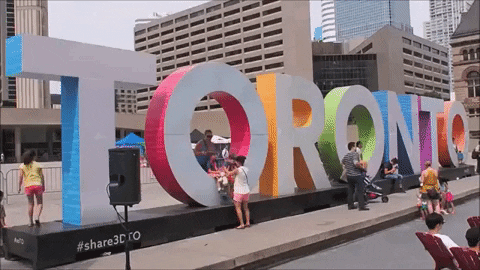 Dari sudut pandang avgeek dan juga seseorang yang tinggal di Amsterdam, Toronto juga lah sebuah tujuan yang exciting karena KLM mengoperasikan satu dari dua penerbangan hariannya kesana dengan pesawat Boeing 747-400 dari Amsterdam (mesti terbang dengan pesawat ini selagi bisa kan (sebelum pesawatnya dipensiunkan)!) sementara Air France mengoperasikan penerbangannya ke Toronto di musim dingin dengan pesawat Airbus A350-900 terbarunya mereka! Dan di perjalanan ini, aku mendapatkan keduanya! Tidak hanya itu, jadwalnya pun enak dimana aku mendapatkan penerbangan siang hari ke Toronto dengan Boeing 747-400 (sehingga udara (lebih) keringnya tidak akan begitu menggangguku) dimana pulangnya adalah dengan A350-900.
Dan begitu lah, tujuanku di perjalanan akhir tahun ini memang "hanya" Toronto dan Air Terjun Niagara aja. Ini juga berarti perjalanan ini akan menjadi perjalanan akhir tahun tersingkatku semenjak … tahun 2013 (dimana waktu itu aku pergi ke Inggris Barat selama satu minggu 😀 ). Toh walaupun begitu, aku merasa perjalanan ini tetap akan seru-seru aja sih! 😀