ENGLISH
Posts in the 2019 Spring Trip in Central Europe series:
1. Introduction
2. Part I: Prague
3. Part II: Budapest
4. Part III: Salzburg
5. Part IV: Hallstatt
6. Part V: Neuschwanstein Castle
7. Part VI: Munich
We used one of our full days in Munich for a one-day trip to the Neuschwanstein Castle that was located in the southwest region of Bavaria, the German federal state where Munich was located. This castle was also famous as Walt Disney's inspiration for the castle of Sleeping Beauty. Obviously because this castle was indeed very beautiful!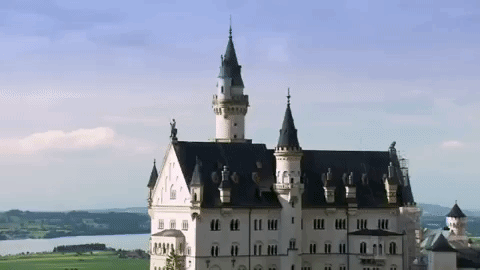 I had wanted to go to this castle for years but had not yet got the opportunity to go there; so I was super excited to be able to do so this time around! 😀 A good Indonesian friend of mine who was doing a short course in the Netherlands for a few weeks at the time was also super interested about this plan, so he arranged a quite last-minute trip to Munich to join us.
Anyway so we all met at the Munich Hauptbahnhof on Sunday morning. We then bought our Bayern ticket, which was such a great deal as we were a group of four, and long story short, took our train to Füssen. It was a regular local train ride except that … then it started to SNOW along the way!!
Yes, it was SNOWING!! 😱 It was May, where we were closer to the end of Spring, i.e. it was almost Summer, and it was SNOWING!! But we were not really complaining, though, as this made the view super spectacular!! (Haha, after almost nine years, I do still find snow beautiful 😛 ).
At Füssen, we had to transfer to a bus service to Hohenschwangau, a village at the feet of the hill where the castle was standing. It was a short bus ride to Hohenschwangau, where we got off at a bus stop just nearby the information center.
The snow that fell earlier was actually "real" snow, as in it was snowing so much that made it look like we were in the middle of Winter, haha. This was obviously crazy weather, but on the other hand it was also very beautiful because all the trees still had leaves; unlike in a "regular" Winter where most trees didn't have their leaves anymore.
I already reserved our guided tour in the castle (which I did online) and at the ticket center I got our tickets. But then I was told a not-so-nice news that was the downside of this crazy weather. There was no regular bus service to the top of the hill because of the weather. We could, then, still take the horse carriage ride but the officer said if we did, it would be unlikely for us to make our scheduled tour. And so he recommended us to … actually climb up the hill! After a quick discussion with my mom and aunt, we decided to do so, haha.
Obviously we took it easy, because (1) we were climbing a hill in which under regular weather would take about 40 minutes of hike and (2) it was STILL snowing at the time! It was a very interesting hike though as quite many times, snow that had amassed on trees fell down as the trees couldn't support it anymore. And it all happened so quickly which surprised many unsuspected people (like us, haha).
Long story short, we eventually reached the Skywalk Neuschwanstein, an observational balcony with an amazing view of the castle. Obviously it was popular with tourists (haha) so we had to take our turns for a pictures.
The view from the other side of the Skywalk was magnificent as well. We got to see a vast flat field surrounding the hill. With the snow, it looked really unreal, a perfect European Winter Wonderland … in May! Haha 😛
We then learned that indeed the road towards Marienbrücke was closed that day. The regular bus service I mentioned above would have stopped at Marienbrücke, a pedestrian bridge with amazing, and popular, view of the castle. Oh well, you can't get everything in life, I guess, haha…
Anyway, we then walked towards the entrance of the castle. We had to wait for a little bit before our tour started. It appeared to us that visitors were split into groups in five minutes interval, which was a smart crowd control I must say.
We were then let in, and we got confused as there were nobody greeting us at the door. So we just followed the way, and it turned out that we would meet our guide at an alley in the castle, where we were also given audio devices to listen to the guide's explanation.
The tour then started. Unfortunately, we were not allowed to take pictures or videos inside the castle. What a bummer… . Anyway, the inside of the castle was beautiful too! My favorite was the unique room which looked like the inside of a cave! Overall it was a nice tour, though it did feel short somehow. I mean, from the outside the castle looked large! Haha 😛 .
We then left the castle and decided to have lunch at a restaurant nearby the Skywalk. It was a nice restaurant. I almost ordered the pork knuckle but I didn't (My friend did, haha).
Then it was snowing again while we were at the restaurant. And it was snowing quite hard! Haha 😛 . So at one point my friend and I went out to take some more pictures 😛 . It was beautiful…
Originally we planned to take the 17:40 bus to Füssen. To go down the hill, we decided to catch a horse carriage, haha. It cost €3.50 per person one way, btw. The line for the horse carriage was really long, though, and it moved rather slowly as one carriage could take only about eleven or twelve passengers.
Long story short, we finally got our turn. But at the time, I realized it was already too late to catch the 17:40 bus so we now aimed for the 18:40 bus; but it was not a problem actually, haha. My friend, my mom, and I decided to sit at the front of the carriage beside the coachman, haha. And during the ride, my mom realized that our situation was exactly what was described in the "Naik Delman" song (An Indonesian children song about, well, riding a horse carriage)!
See? It was (1) a Sunday, (2) we were riding a special horse carriage, (3) we sat at the front beside the coachman; (4) the coachman was controlling the horses so that they were moving fine! Lol 😆
We then walked to the bus stop, where we had to wait for a little bit for the bus. Long story short, the bus came and took us to Füssen. There was no more direct Füssen – Munich train service at the time, so we had to take a train going to Augsburg and change in Kaufbeuren for one to Munich.
We arrived in Munich at about 9:15 PM. My friend went back to his hostel, and the rest of us took the metro to get back to ours…
So all in all, today was such an amazing day!
TO BE CONTINUED…
BAHASA INDONESIA
Posting-posting dalam seri perjalanan musim semi 2019 di Eropa Tengah:
1. Introduction
2. Part I: Prague
3. Part II: Budapest
4. Part III: Salzburg
5. Part IV: Hallstatt
6. Part V: Neuschwanstein Castle
7. Part VI: Munich
Kami menggunakan satu hari penuh kami di Munich untuk perjalanan satu hari ke Kastil Neuschwanstein yang berlokasi di bagian barat daya federal state Bavaria-nya Jerman dimana Munich berada. Kastil ini juga terkenal karena menjadi inspirasinya Walt Disney untuk kastilnya Sleeping Beauty. Yang mana memang karena kastilnya indah banget!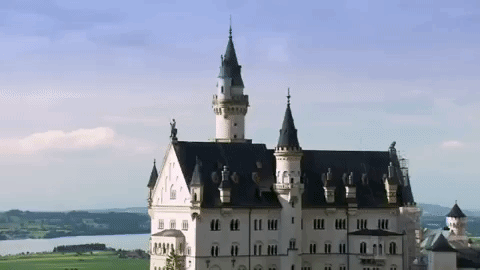 Sudah lama aku ingin pergi ke kastil ini sebenarnya tapi kesempatannya belum ada; jadilah aku excited aku bisa akhirnya mengunjunginya kali ini! 😀 Seorang teman baikku dari Indonesia yang kebetulan sedang short course di Belanda selama beberapa minggu juga tertarik dengan kastil ini sehingga ia menyusun perjalanan dadakan ke Munich untuk bergabung dengan kami.
Anyway kami bertemu di Munich Hauptbahnhof di hari Minggu pagi. Kami kemudian membeli tiket Bayern, yang mana merupakan deal yang oke banget karena kami bepergian sebagai grup berisi empat orang, dan singkat cerita, menaiki kereta kami ke Füssen. Ini adalah perjalanan kereta biasa sih … sampai kemudian tiba-tiba BERSALJU dong ya di jalan!!
Iyaa, masa BERSALJU doong!! 😱 Padahal kan sudah bulan Mei ya, sudah dekat ke akhir musim semi juga, alias sudah mau masuk musim panas, kok tiba-tiba malah BERSALJU!! Tapi kami nggak komplain juga sih karena sebagai akibatnya pemandangannya jadi kece banget!! (Setelah hampir sembilan tahun, aku masih suka dengan yang namanya salju 😛 ).
Di Füssen, kami harus berpindah moda transportasi ke bus menuju  Hohenschwangau, sebuah desa yang berlokasi di kaki bukit dimana kastilnya berdiri. Perjalanan ke Hohenschwangau tidak memakan waktu lama sih, dimana kami turun di halte bus tidak jauh dari pusat informasi.
Salju yang sudah turun semenjak tadi ternyata adalah salju "beneran", dalam artian saljunya banyak dan sampai menumpuk gitu sehingga rasanya malah seperti sedang di pertengahan musim dingin, haha. Jelas dah ini cuacanya yang aneh, tapi di sisi lain justru suasananya jadi indah sih karena kan pohon-pohonnya berdaun ya; tidak seperti di musim dingin "reguler" dimana pohon-pohon kebanyakan sudah gundul semua, haha.
Aku sudah memesan tur kastilnya (aku memesannya online) sehingga di konter tiket aku tinggal mengambil tiket kami. Tapi di sana kami diberi-tahu berita yang kurang mengenakkan yang merupakan sisi buruk dari cuaca gila ini. Layanan bus reguler ke atas bukitnya tidak dijalankan hari ini karena alasan cuaca. Kami masih bisa ke atas dengan menaiki kereta kuda sih tetapi petugasnya bilang antrian kereta kudanya panjang banget sehingga kami nggak akan keburu tur kami itu. Dan ia merekomendasikan kami untuk … berjalan-kaki naik ke atas bukit! Setelah berdiskusi sebentar dengan mama dan tanteku, kami memutuskan untuk berjalan-kaki! Ya  namanya sudah kepalang tanggung juga kan!
Jelas kami menaiki bukitnya dengan bersantai-santai saja karena (1) kami menaiki bukit yang mana dalam kondisi cuaca biasa saja memakan waktu 40an menit dan (2) waktu itu salju masih turun! Perjalanan naik ini lumayan seru deh dimana seringkali terjadi salju yang sudah menumpuk di atas pohon tiba-tiba jatuh karena pohonnya tidak kuat lagi menahannya. Dan ini berlangsung ama sangat cepat yang membuat banyak pengunjung yang tidak biasa (seperti kami) kaget, haha.
Singkat cerita, akhirnya tiba juga kami di Skywalk Neuschwanstein, sebuah balkon observasi dengan pemandangan kece akan kastilnya. Jelas balkonnya populer dengan turis (haha) sehingga kami harus mengantri untuk foto-foto.
Pemandangan dari sisi lainnya Skywalk juga keren banget. Kita bisa melihat hamparan dataran luas yang mengelilingi bukitnya. Dan semuanya tertutup salju, keren banget lah, Winter Wonderland Eropa banget … di bulan Mei! Haha 😛
Ternyata memang jalan ke Marienbrücke tutup hari ini. Pemberhentian layanan bus reguler ke atas bukitnya adalah di Marienbrücke itu, yang mana merupakan sebuah jembatan pejalan-kaki dengan pemandangan yang kece banget, dan terkenal, akan kastilnya. Sayang sih tapi ya sudah deh, memang kita tidak bisa mendapatkan semuanya di dunia ini kan ya, haha…
Anyway, kami kemudian berjalan menuju pintu masuk kastilnya. Kami harus menunggu sebentar sebelum tur kami dimulai. Ternyata pengunjung dibagi ke beberapa grup dengan interval lima menit, yang mana merupakan crowd control yang pintar menurutku.
Kami kemudian mendapatkan giliran masuk, dan merasa agak bingung karena tidak ada siapa-siapa yang menyambut kami di pintunya, haha. Jadilah kami berjalan aja mengikuti jalurnya, dimana ternyata kami baru bertemu guide kami di sebuah lorong di dalam kastilnya dimana kami juga diberikan alat untuk membantu mendengarkan penjelasan guide kami.
Tur kemudian dimulai. Sayang, pengunjung tidak diperbolehkan foto-foto atau mengambil video di dalam kastilnya. Sayang ya… . Ngomong-ngomong, bagian dalam kastilnya juga indah banget lho! Bagian favoritku adalah ruangan unik yang nampak seperti bagian dalam sebuah gua! Secara umum ini adalah tur yang asyik, walaupun terasa singkat dah. Maksudku, padahal dari luar kan kastilnya nampak besar ya! Haha 😛
Kami kemudian meninggalkan kastilnya dan makan siang di sebuah restoran di dekat Skywalk. Restorannya oke dah. Aku hampir saja memesan pork knuckle tapi kemudian tidak jadi (Temanku sih yang memesan, haha).
Lalu salju kembali turun ketika kami makan siang. Dan turunnya lumayan lebat! Haha 😛 . Jadilah suatu waktu aku dan temanku pergi ke luar untuk foto-foto 😛 . Kece banget dah pokoknya…
Awalnya kami berencana menaiki bus jam 17:40 menuju Füssen. Nah, untuk turun bukit kali ini kami memutuskan untuk naik kereta kuda aja. Biayanya €3.50 per orang sekali jalan, btw. Dan antrian untuk kereta kuda ini panjang banget sih, dan bergeraknya lumayan pelan karena sekali jalan keretanya hanya mampi membawa sekitar sebelas atau dua belas penumpang saja.
Singkat cerita, giliran kami akhirnya tiba juga. Tapi waktu itu, aku sudah sadar bahwa sudah terlalu terlambat untuk mengejar bus jam 17:40 sehingga kini kami akan menaiki bus jam 18:40 saja; nggak masalah juga sih sebenarnya, haha. Temanku, mamaku, dan aku memutuskan untuk duduk di depan di samping pak kusir, haha. Dan ketika keretanya jalan, mamaku menyadari bahwa situasi kami waktu itu kok pas banget dengan yang digambarkan di lagu "Naik Delman" dong:
Iya kan? (1) Hari ini adalah hari Minggu, (2) kami sedang menaiki delman istimewa, (3) kami duduk di samping pak kusir, (4) pak kusirnya sedang bekerja mengendalikan kuda supaya baik jalannya! Huahaha 😆
Kami kemudian berjalan ke halte bus, dimana kami harus menunggu sebentar sebelum busnya tiba. Singkat cerita, bus tiba dan kami dibawa ke Füssen. Sudah tidak ada lagi kereta langsung Füssen – Munich malam itu, sehingga kami harus menaiki kereta tujuan Augsburg dan berganti kereta di Kaufbeuren untuk menuju Munich.
Kami tiba di Munich sekitar jam 9:15 malam. Temanku kembali ke hostelnya dan kami kembali ke hotel kami…
Yep, hari ini adalah hari yang sunguh seru dan menyenangkan!
BERSAMBUNG…