ENGLISH
Earlier this month, I mentioned that I had to take care of an important matter here in the Netherlands just after the end of my 2018 year end trip. The matter is done now so it is time to share what it was, haha.
So the matter was … to renew my passport! 😛 Yeah as always, time flies by so quickly that apparently it has been about 4.5 years since I last renewed my passport! Since a few months ago, I have decided that the a few weeks period in January after my year end trip would be the most optimal period to take care of this matter.
Anyway, my experience of taking care of this was pretty much similar to how it was 4.5 years ago. The entire process was very clear, and efficient here in the Netherlands! But first of all, I wouldn't want to write a step by step guide on it, though, because I noticed that the list of requirements this time around was slightly different from 4.5 years ago. And so for that, I feel like the most responsible course of action would be to redirect you to the official website where all the instructions are given.
I then went to the Embassy in Den Haag with all the requirements. I came early so I was the first in the passport line, haha. After all the requirements were checked, I had to input my biometric information (this was new), got my photo taken, paid the €30, and voila, I got my receipt. A week later my new passport was ready to pick up. It was super efficient and there was no hassle at all!! 😀
I was actually excited about this new passport. You see, it happened that 4.5 years ago I renewed my passport just before (literally about a month or two) the new passport design was launched. Meaning at the time, my "new" passport was still with the "old" design! It depends on how you look at it, of course, as one could argue that this was actually cool because my passport would have a "classic" look; but on the other hand you have Barney: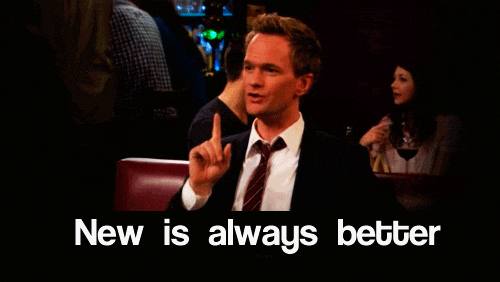 Lol 😆 . And I have been leaning more towards the Barney side on this matter 😛 . So I am excited that my current passport now has the "new" design (if you can still call it "new" after more than four years, lol 😆 ).
Though, too bad that we couldn't apply for the cool e-passport here in the Netherlands; and that the passport validity is still five years for the moment. But anyway the bottom line is, now I am ready to travel again! Haha 😆 .
BAHASA INDONESIA
Awal bulan ini, kuceritakan bahwa aku harus mengurus suatu hal penting di Belanda setelah pulang dari perjalanan akhir tahun 2018ku. Urusannya sudah beres sekarang sehingga aku bisa ceritakan, haha.
Jadi kemarin ini aku harus … mengurus perpanjangan paspor! 😛 Seperti biasa ya, waktu berlalu sungguh cepat dimana tiba-tiba saja sudah sekitar 4,5 tahun dong semenjak terakhir kali aku mengurus perpanjangan paspor! Semenjak beberapa bulan yang lalu, sudah aku putuskan bahwa periode sekian minggu di bulan Januari setelah pulang dari perjalanan akhir tahunku adalah periode waktu yang optimal untuk mengurus urusan ini.
Anyway, pengalamanku mengurus ini kurang lebih mirip lah seperti 4,5 tahun yang lalu. Keseluruhan prosesnya amat jelas dan efisien di Belanda ini! Tapi pertama-tama, aku tidak akan menuliskan petunjuk langkah per langkah ya di posting ini, karena aku perhatikan daftar persyaratannya kali ini juga agak sedikit berbeda dari 4,5 tahun yang lalu. Makanya aku merasa yang paling bertanggung-jawab adalah untuk mengarahkan pembaca ke laman resminya saja dimana semua instruksi diberikan.
Aku kemudian pergi ke Kedutaan di Den Haag dengan membawa semua persyaratannya. Aku datang pagi (pagi maksudnya adalah jam 9 lebih sedikit gitu ya, nggak kayak di Indo yang kalau aku baca-baca harus datang subuh gitu ya? Haha 😛 ) sehingga aku yang pertama di barisan antrian paspor, haha. Setelah semua persyaratan diperiksa, aku diminta memasukkan informasi biometrik (baru nih), ambil foto paspor, membayar €30, dan voila, aku mendapatkan nota. Seminggu kemudian paspor baruku sudah siap untuk diambil. Prosesnya benar-benar efisien dan lancar tanpa masalah sama sekali!! 😀
Sebenarnya aku excited loh untuk paspor baru ini. Ceritanya kebetulan 4,5 tahun lalu aku melakukan perpanjangan persis sebelum (cuma beda satu atau dua bulan aja) peluncuran disain baru paspornya. Yang mana artinya waktu itu, paspor "baru"-ku masih menggunakan disain "lama"! Tergantung dari sudut pandang memang, karena bisa saja dibilang bahwa ini justru asyik karena pasporku jadi memiliki penampilan yang "klasik"; tapi di sisi lain kan ada Barney ya: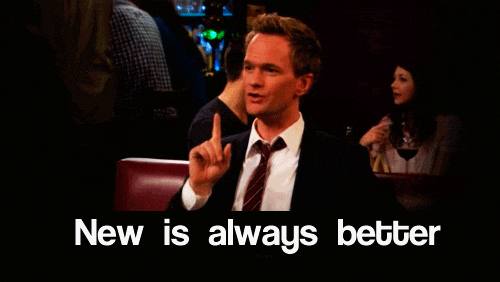 Huahaha 😆 . Dan rasa-rasanya aku lebih condong ke sisinya Barney deh dalam urusan ini 😛 . Makanya aku excited karena akhirnya pasporku sekarang sudah memiliki disain yang "baru" (kalau masih bisa disebut "baru" setelah lebih dari empat tahun sih, haha 😆 ).
Sayangnya di Belanda kita masih belum bisa apply e-passport nih; dan juga masa berlakunya paspor masih lima tahun aja ya sekarang. Ah tapi yang penting, sekarang aku sudah bisa (dan siap) untuk jalan-jalan lagi! Haha 😆