ENGLISH
To start off the year, my office organized an awesome party last Friday. It surely was a great, and super fun, way to end a week and start a weekend! Lol 😆 . Though as a side effect, I actually felt quite physically tired on Saturday, lol 😆 . But it wasn't that big of a deal because I actually planned that day for rest anyway 😛 . Though, I also managed to do some cleaning in my apartment so my Saturday still felt quite productive.
Speaking of the weekend, as I mentioned last week, the new season of Star Trek: Discovery was released on Thursday too, and my Netflix had it by Friday. I was certainly very excited for this new season! This was for both the bigger (macro) reason (Hey, a new season of Star Trek!) and for the smaller (micro) reason (They left us with a damn of a cliffhanger at the end of season 1! Haha 😛 ).
And thus far, based only on one episode, I actually liked it! It felt more like a "Star Trek episode" than each and every single episode of season 1. While perhaps not that "obvious" (given the amount of "action" scenes in the episode), an interpersonal situation was actually also briefly touched in the episode: the working relationship between Christopher Pike, who "abruptly" took command of the USS Discovery, and the Discovery crews that was at the very, very beginning. They still got to know each other, to build trust, and to build the dynamic as a team. It was a very real-world-like situation to be in, no? 😛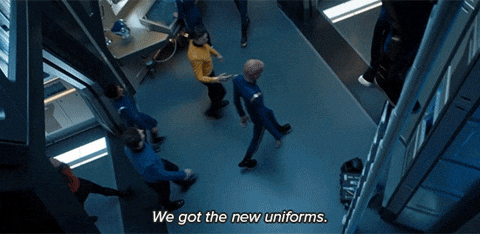 I also liked that they touched on the uniform. I just recently realized this, though, but the Starfleet uniform design in Star Trek: Discovery was actually a design "bridge" between the mostly blue Star Trek: Enterprise's uniform design and the colorful Star Trek: The Original Series' style!
So yeah, I am excited about this new season; and, to me, the season has begun with a great start!! 😀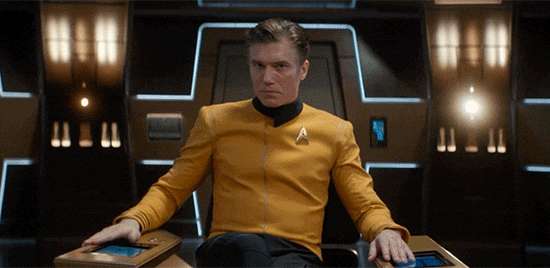 BAHASA INDONESIA
Untuk memulai tahun ini, kantorku mengadakan party yang seru banget hari Jumat lalu. Seru banget dah, dan merupakan cara yang asyik banget untuk mengakhiri suatu minggu kerja dan memulai akhir pekan! Haha 😆 . Walau efek sampingnya, aku merasa capek deh di hari Sabtu, haha 😆 . Tapi nggak masalah sih karena toh memang Sabtu sudah aku rencanakan untuk istirahat saja 😛 . Walaupun aku sempat sedikit bersih-bersih apartemen juga sehingga hari itu tetap terasa produktif bagiku.
Ngomongin akhir pekan, seperti yang kusebutkan minggu lalu, musim baru dari Star Trek: Discovery ditayangkan di hari Kamis, dan mulai ada di Netflix-ku di hari Jumat. Jelas dong ya aku amat excited untuk musim baru ini! Ini karena alasan yang lebih besar (makro) (Hey, musim baru dari Star Trek nih!) dan juga alasan yang lebih kecil (mikro) (Ceritanya musim pertama kan diakhiri dengan sebuah cliffhanger, sehingga jelas aku penasaran banget! Haha 😛 ).
Dan sejauh ini, berdasarkan satu episode saja, aku sukaa! Episode ini terasa lebih seperti "episodenya Star Trek" daripada episode mana pun di musim pertama. Walaupun mungkin tidak begitu "jeals" (akibat nuansa "action" episode ini), ada situasi interpersonal yang sedikit disinggung di episode ini: yaitu hubungan di "kantor" antara Christopher Pike, yang secara "tiba-tiba banget" mengambil kuasa USS Discovery, dan krunya Discovery di waktu-waktu awal banget. Mereka masih harus mengenal satu sama lain, belajar untuk mempercayai satu sama lain, dan membangun dinamika sebagai satu tim. Situasi yang sangat dunia-nyata banget kan ya? 😛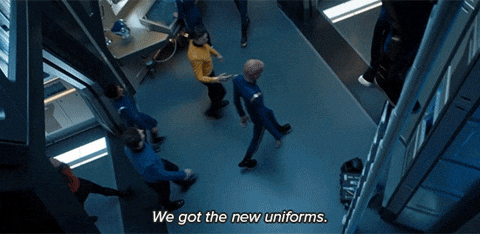 Aku juga suka sentuhannya terhadap unsur seragam. Aku baru sadar akhir-akhir ini, dimana seragamnya Starfleet di Star Trek: Discovery dalam hal disain berperan sebagai "jembatan" antara disain seragam yang bernuansa biru di Star Trek: Enterprise dan disain warna-warni di Star Trek: The Original Series!
Jadi ya, aku excited akan musim baru ini; dan untukku, musim ini dimulai dengan sangat baik!! 😀