ENGLISH
For a while I wasn't sure whether I would like to give Star Trek: Deep Space Nine (DS9), another spin-off of the ever popular Star Trek series, a try; as there were seven seasons  (so it was a lot of episodes) and none of it was "remastered", haha. But after finishing Star Trek: The Original Series, I decided to do so; at least one episode, I thought. And I have to say … since then I have been hooked to this series!
First of all, DS9 was a unique Star Trek series. Being set in the same period as The Next Generation era and was aired from 1993 until 1999, the series overlapped with both TNG and Voyager. And so understandably the creators felt the need for this series to be "different". Setting-wise, the series took place in a deep space station (that wasn't even a Federation one) instead of a starship (like literally the other Star Trek series) and story-wise it followed a general arc (that was not space exploration, btw) spanning episodes and seasons.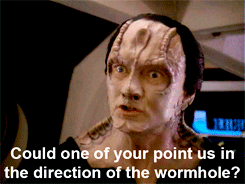 But what was great about this series was that this was achieved without it "losing" its Star Trek "identity" (unlike Star Trek: Discovery). This was made possible by the great creativity of the writers. The space station was located nearby a newly-found wormhole connecting the Alpha and the Gamma Quadrant of the Milky-Way galaxy, thus placing it in such a strategic location. Consequently, the station was like a port town, occupied by civilians too running shops, bars, restaurants, etc; and was visited by many explorers, politicians, and traders passing by. All of these were certainly great ingredients for awesome "exploration" story (being Star Trek) without being in a space ship (being DS9)!
In one word, the series was "rich". The station being "owned" by the Bajorans, hence not a "Federation" one, finally gave the writers "freedom" to explore darker complex themes; something that was previously constrained by Gene Roddenberry's, the original creator of Star Trek, utopian view of the human race's future a few centuries from now. At some opportunities, the show even "challenged" this utopian view. For instance the following speech by Michael Eddington who defected from Starfleet to join the Maquis:
On the other hand, I felt like the series paid a lot of tribute to The Original Series too. For example, on a few occassions the phasers were used in "kill" mode, where the target was killed by being "vaporized" into nothingness, just like in TOS (Though this effect was also used in Discovery, haha). And, perhaps the best and cutest episode ever: Trials and Tribble-ations, where the DS9 crews were brought back to the 23rd century and had to save James T. Kirk from being murdered (while feeling "star-struck" too). The story "took place" in TOS' The Trouble with Tribbles episode.
It also certainly "helped" that the Bajorans, a race that was portrayed religious, had just liberated themselves from the brutal occupation of the Cardassians. For instance, some episodes explored the theme on how some "top" Bajorans tried to use their own religion to … *ahem* gain power. In general it helped set the tone of the series to be a little bit more … reflectively spiritual, something which I, surprisingly, quite enjoyed!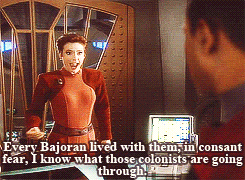 In short, I have truly enjoyed this series! To think back, I feel like a food for having a hesitation to watch this series some time back, haha. Seriously, this series is unique in the sense that it gets better and better with each episode and season!
So have anyone seen this amazing series too? What do you think?
BAHASA INDONESIA
Sebenarnya sudah lumayan lama aku galau apakah aku ingin mencoba menonton Star Trek: Deep Space Nine (DS9), sebuah spin-off lain dari serial Star Trek yang populer banget itu; karena ada tujuh musim (artinya ada buanyak episode kan ya) dan tidak ada satu episode pun yang di-remastered, haha. Tapi setelah pada akhirnya selesai menonton Star Trek: The Original Series, aku memutuskan untuk mencobanya; seenggaknya satu episode saja lah, pikirku. Dan harus kuakui … semenjak waktu itu aku sudah tercaplok oleh serinya!
Pertama-tama, DS9 adalah serial Star Trek yang unik. Setting-nya berada di era yang sama dengan The Next Generation yang mana pula ditayangkan dari tahun 1993 hingga 1999, serial ini ditayangkan bersamaan dengan TNG dan Voyager. Jadi jelas lah ya penulis ceritanya merasa perlu untuk membuat serial ini "berbeda". Dari segi latar, seri ini mengambil tempat di sebuah stasiun luar angkasa (itu pun bukan stasiun milik Federasi) bukannya sebuah kapal luar angkasa (seperti di serial-serial Star Trek lainnya) dan ceritanya juga secara umum mengikuti suatu jalan tertentu (yang bukan hanya sebatas eksplorasi luar angkasa, btw) yang sepanjang sekian episode dan bahkan musim.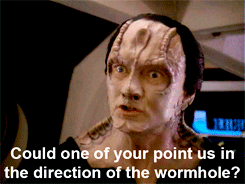 Yang keren dari serial ini adalah kekerenan ini semua dicapai tanpa dengan "mengorbankan" identitas Star Trek (nggak kayak Star Trek: Discovery). Ini semua dimungkinkan oleh kreativitas penulis-penulis ceritanya. Stasiun luar angkasanya berlokasi di dekat sebuah wormhole yang baru saja ditemukan yang menghubungkan kuadran Alpha dan Gamma di Galaksi Bima Sakti ini, yang berarti stasiunnya berada di lokasi yang amat strategis. Sebagai akibatnya, stasiunnya sendiri bisa dipandang seperti sebuah kota pelabuhan kecil gitu. Stasiun ini dihuni oleh banyak warga sipil yang bekerja sebagai pedagang toko, pemilik bar, pemilik restoran, dll; dan stasiunnya banyak disinggahi oleh para penjelajah, politisi, dan pedagang. Semua ini jelas adalah bumbu-bumbu yang cocok banget untuk cerita "eksplorasi" (jadi masih Star Trek) tanpa harus berada di sebuah kapal luar angkasa (jadi DS9 banget)!
Dalam satu kata, serial ini "kaya" banget. Kepemilikan stasiunnya oleh bangsa Bajoran, yang bukan merupakan anggota Federasi, memungkinkan penulis naskah untuk akhirnya "bebas" mengeksplorasi tema-tema kompleks yang lebih gelap; sesuatu yang sebelumnya terbatas banget untuk bisa dilakukan di Star Trek karena pandangan utopia akan masa depan umat manusia beberapa abad dari sekarang oleh Gene Roddenberry, pencipta asli Star Trek. Di beberapa kesempatan, serial ini bahkan "menantang" pandangan utopia ini. Misalnya perkataan brutal Michael Eddington yang diceritakan membelot dari Starfleet dan kemudian bergabung dengan grup pemberontak the Maquis berikut ini:
Di sisi lain, aku merasa serial ini juga sangat menghargai The Original Series juga. Misalnya saja, di beberapa kesempatan phasers digunakan dalam mode "kill", dimana targetnya terbunuh dengan cara tiba-tiba "dihilangkan" gitu, kayak di TOS (Dan di Discovery juga sih kalau ini, haha). Dan, mungkin episode terkeren dan ter-cute dari Star Trek di era Next Generation: Trials and Tribble-ations, dimana krunya DS9 terbawa mundur ke masa lalu yaitu abad ke-23 dimana mereka harus menyelamatkan James T. Kirk dari upaya pembunuhan (sementara di saat yang sama mereka merasa "star-struck" juga). Cerita ini "mengambil tempat" di episode The Trouble with Tribbles-nya TOS.
Juga "membantu" dimana latar bangsa Bajoran, sebuah bangsa yang digambarkan religius, yang baru saja memerdekakan diri dari penjajahan kejam bangsa Cardassian. Misalnya saja, beberapa episode mengeksplorasi tema mengenai beberapa "petinggi" Bajoran yang menggunakan agama untuk … *uhuk* mendapatkan kekuasaan. Secara umum, tema ini memungkinkan serialnya untuk terasa agak … spiritualistik yang reflektif, sesuatu yang, cukup mengagetkanku, ternyata bisa aku nikmati juga!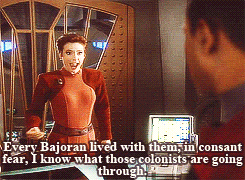 Secara singkat, aku sungguh menikmati serial ini! Kalau dipikir-pikir lagi, kini aku merasa konyol karena dulu sempat ragu apakah ingin menonton serial ini atau tidak, haha. Beneran lho, serial ini semakin ke belakang, semakin bagus!!
Apakah ada yang pernah menonton acara ini juga? Jika iya, bagaimanakah pendapatmu?