ENGLISH
If I was happy two weekends ago when I could finally get some rest, I was actually even happier this weekend! It was for the same reason as back then, though; I had a short weekend trip, to Lyon this time around, the weekend prior. If anything, this trip turned out to be more physically demanding than the preceding weekend trip to Barcelona, because of the agenda of the Fête des Lumières.
I mean, for the obvious reason the Festival of Light took place in the evening; and so it was already very late when I got back to my hotel. Obviously as a true millennial I didn't go straight to bed after that but rather sorting out the photos and videos I had just taken for my Instagram (@azilko), haha 🙈 #dedication. I think I eventually got to bed at like 1:30 AM or so. Oh, and on top of that, I walked really a lot that Saturday too.
While my flight on Sunday wasn't a morning flight and so it was not like I had to get up especially that early, the schedule still did not allow me to sleep through Sunday. Indeed this was a factor I didn't really consider when planning the trip earlier this Summer. Perhaps I should have booked myself a seat on a later flight(s) back to Amsterdam, haha 😛 . I mean it was overall fine, though, it was just that I knew I was owing my body a good deal of rest the weekend after 😛 .
Speaking of this weekend, the final of this year's series of The Apprentice UK (series 14) was aired on Sunday evening. And earlier in the week, two extra special episodes were aired. One was about the Final Five and the other was a recap of this series up to the Final week, where Lord Sugar explained why he fired each of the 14 candidates.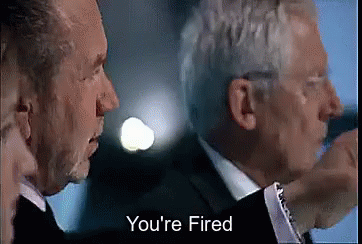 I didn't watch the former (I forgot, and wasn't that interested about, to be honest 😛 ) but the latter was really fun. It reminded me of my most favorite Apprentice episode ever, that was this series' sixth episode where the teams were tasked to create a new budget airline and the marketing campaign for it. Neither team did well, in my opinion. I mean, for example:
Get another #TheApprentice fix before the big Final tonight at 9pm on @BBCOne with Why I Fired Them! Looking back o… twitter.com/i/web/status/1…

—
The Apprentice (@bbcapprentice) December 13, 2018
Lol 😆 . But nonetheless, It was fun and very entertaining!
Camilla and Sian made the Final this year. I liked both candidates this year, just like last year, but if I have to choose one, I would perhaps camp in the Sian-side, though I wouldn't mind if Camilla won too. In the end, Sian won; thus officially breaking my streak where the candidate that I liked better lost in the final of The Apprentice UK (Last year didn't count because, in a twist ending, Lord Sugar decided to make both finalists, James White and Sarah Lynn, win where he invested in the two business proposals).
Anyway, it has been another great series of The Apprentice UK, which I thoroughly enjoyed every Wednesday evening! From now on my Wednesday evening wouldn't be the same, haha; and so I can't wait for next year with its new series!!
Thanks for all your tweets tonight during #TheApprentice final- it's been a pleasure laughing, crying and cringing… twitter.com/i/web/status/1…

—
The Apprentice (@bbcapprentice) December 16, 2018
And lastly, for the first time this winter, it was snowing here in Amsterdam this weekend! Yeay!! You know, it turns out that after eight (plus) years here, snow still excites me! haha 😆
BAHASA INDONESIA
Jika aku senang dua akhir pekan yang lalu dimana aku akhirnya merasa bisa beristirahat, aku bahkan merasa lebih senang lagi akhir pekan kemarin ini! Penyebabnya sama sih; aku pergi dalam perjalanan akhir pekan singkat, kali ini ke Lyon, di akhir pekan sebelumnya. Bahkan, perjalanan ini ternyata lebih melelahkan secara fisik daripada perjalanan akhir pekan ke Barcelona sebelumnya yang disebabkan oleh agenda dari Fête des Lumières.
Maksudku, jelas banget kan ya yang namanya Festival Cahaya pasti diadakannya di malam hari; yang mana berarti aku pulangnya ke hotel juga malam banget. Dan sebagai anak milenial sejati jelas dong aku nggak langsung tidur begitu sampai hotel, tapi malah sibuk memilih-milih foto dan video dulu untuk Instagram (@azilko), haha 🙈 #dedikasi. Kalau nggak salah aku akhirnya baru sempat tidur jam 1:30 subuh dah, haha. Oh, dan di hari Sabtunya itu aku banyak berjalan-kaki juga loh, makanya capek.
Walaupun penerbanganku di hari Minggu bukanlah penerbangan pagi sehingga aku tidak perlu bangun pagi-pagi banget, tapi jadwalnya juga tidak bisa membuatku bangun siangan gitu, haha. Memang sih aku tidak memperhitungkan faktor ini ketika rencananya kususun di musim panas kemarin. Padahal kayaknya bakal lebih enak andaikata aku pulangnya naik penerbangan ke Amsterdam yang agak sorean dah, haha 😛 . Eh sebenarnya secara keseluruhan ini masih nggak masalah sih, hanya saja aku tahu aku berhutang istirahat terhadap badanku sendiri di akhir pekan berikutnya 😛 .
Ngomongin akhir pekan ini, final dari seri The Apprentice UK tahun ini (musim ke-14) ditayangkan di hari Minggu malam. Dan di awal minggunya, bahkan dua episode spesial ekstra ditayangkan. Yang pertama adalah mengenai profil kandidat lima besarnya dan yang kedua adalah rekap dari serial tahun ini hingga minggu sebelum final, dimana Lord Sugar menjelaskan mengapa ia "memecat" 14 kandidat.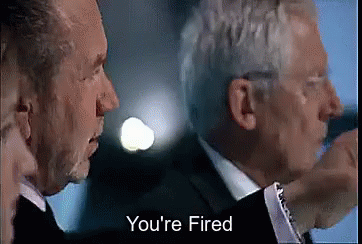 Aku tidak menonton yang pertama (aku lupa, dan memang pada dasarnya nggak begitu tertarik juga sih 😛 ) tetapi yang kedua seru banget loh. Rekap ini mengingatkanku akan episode dari The Apprentice yang paling aku sukai banget, yaitu episode keenam seri tahun ini, dimana kedua tim diminta untuk membuat konsep suatu maskapai LCC baru sekaligus materi iklan/marketing-nya. Kedua tim tidak menghasilkan produk yang oke sih, menurutku. Maksudku, begini dah contohnya:
Get another #TheApprentice fix before the big Final tonight at 9pm on @BBCOne with Why I Fired Them! Looking back o… twitter.com/i/web/status/1…

—
The Apprentice (@bbcapprentice) December 13, 2018
Huahaha 😆 . Toh walaupun begitu, episodenya seru dan menghibur banget!
Camilla dan Sian pada akhirnya masuk ke babak final tahun ini. Aku menyukai keduanya sih, sama lah kayak tahun lalu. Tapi kalau harus memilih salah satu, rasanya aku lebih condong untuk mendukung Sian dah, walaupun aku nggak akan kecewa jika yang menang Camilla sih. Pada akhirnya, Sian beneran menang; yang berarti streak-ku akhirnya berakhir dimana sampai dua tahun yang lalu, kandidat yang lebih aku sukai/dukung di final selalu kalah dong di The Apprentice UK, haha. (Tahun lalu nggak dihitung karena Lord Sugar membuat sebuah twist yang mengejutkan di babak final dimana ia mengumumkan bahwa kedua finalis seri itu, James White dan Sarah Lynn, menang dimana ia memutuskan untuk berinvestasi di kedua proposal bisnis yang diajukan.
Anyway, seri tahun ini adalah seri yang, lagi-lagi, bagus dari The Apprentice UK nih, yang mana senantiasa aku nikmati setiap hari Rabu malam! Mulai sekarang, Rabu malam rasanya bakal berbeda dah, haha; dan aku sudah nggak sabar nih menunggu tahun depan untuk seri barunya lagi!!
Thanks for all your tweets tonight during #TheApprentice final- it's been a pleasure laughing, crying and cringing… twitter.com/i/web/status/1…

—
The Apprentice (@bbcapprentice) December 16, 2018
Dan yang terakhir, untuk pertama kalinya di musim dingin ini, di akhir pekan kemarin … salju turun lohh di Amsterdam!! Hore!! Jadi ternyata, setelah (lebih dari) delapan tahun di sini pun, yang namanya salju masih tetap membuatku merasa excited!! Hore!! Haha 😆