ENGLISH
After finishing the entire four seasons of Black Mirror, I decided to give Star Trek The Original Series (TOS) a try.
Actually I had heard or read of great stuffs about this classic series from the 1960s. Basically all information that I got about this show was that it was highly recommended. However, you may call me shallow for this, but I hadn't had the interest to watch this series mainly because of … the visual reason! Lol 😆 . I believed it would be very difficult for me to be able to enjoy a series with very "out of date" visual.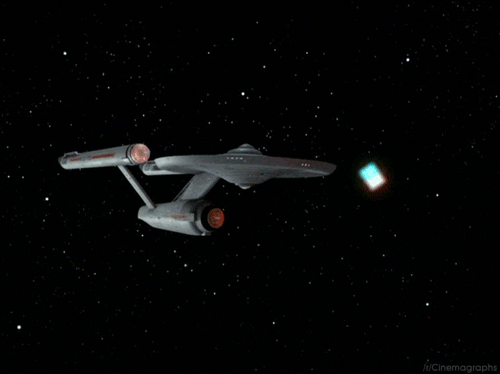 Btw I actually had watched some of the movies based on this series that were produced in the 1980s and the 1990s, and I actually enjoyed them. The one that left the most impression on my memory was Star Trek IV: The Voyage Home, which was released in 1986 but I only watched some ten years later in the 1990s (obviously as I hadn't even been born yet in 1986 😛 ).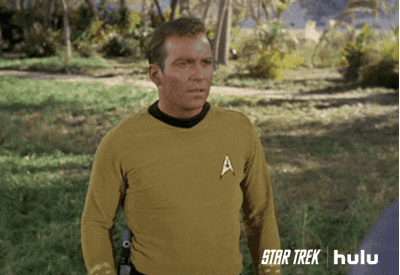 Anyway, I figured that trying out one episode of the series wouldn't hurt. I decided to give it a go and to decide afterwards if I would like to continue or not. To my surprise, I actually enjoyed it!! The "outdate" visual did not bother me that much (Though, granted, I got the remastered version from my Netflix which improved the quality of the visual, especially the effect, a lot. This admittedly helped); and the story was actually great and "in line" with my "conception" of Star Trek. And so since then I decided to give it a go!! 😀 And I can say that I am glad now that apparently, I am not that "shallow" afterall, haha 😛 .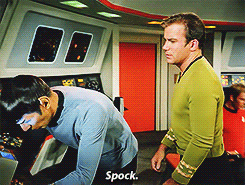 And indeed the series was a classic one! Needless to say, so far I have really been enjoying it; and I now wonder less why it was decided that the newer "installments" (the movies series that have been produced since 2009 and Star Trek: Discovery) would anchor on TOS rather than the "Next Generation" era. I believe part of that reason was that because TOS was more "raw", as in the storyline was less political and focused less on human internal conflicts (hence "simpler") which allowed for more "action"; but all these were still in good balance which made the series a classic one!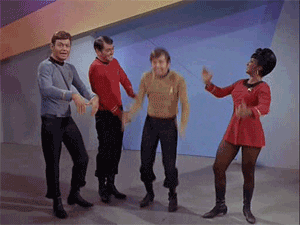 In a sentence: I truly enjoy this series! Too bad it only lasted for three seasons, though…
Having said that, being produced in the 1960s, certainly the series was also influenced by that era. One of the easiest thing to notice was the role of some of the female characters and how these characters were portrayed. Certainly it is not fair, nor right, to view this portrayal using today's perspective, so let's just say that I am very happy with how the human race has progressed in the last 50 years or so! Though, in a way the following line by Capt. Janeway in Star Trek: Voyager summarized this really well.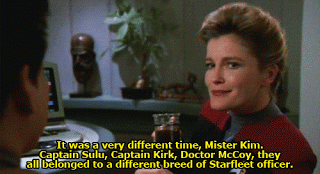 So, have any of you watched this series as well? And if so, what is your take on it?
BAHASA INDONESIA
Setelah selesai menonton keseluruhan empat musim dari Black Mirror, aku memutuskan untuk memberikan kesempatan kepada Star Trek The Original Series (TOS).
Sebenarnya sudah sering aku mendengar atau membaca hal-hal positif tentang serial klasik dari tahun 1960an. Pada dasarnya segala informasi yang kudapatkan tentangnya adalah acara ini sangat amat direkomendasikan. Masalahnya, boleh deh aku dibilang dangkal karena ini, sebelum ini aku tidak begitu tertarik untuk mengikutinya karena … alasan visual! Haha 😆 . Sulit kubayangkan aku bisa menikmati sebuah serial yang visualnya "ketinggalan zaman" banget.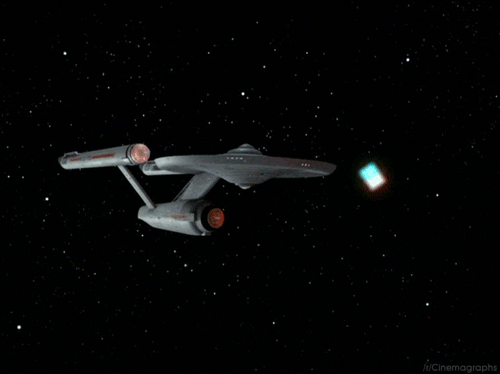 Btw aku sebenarnya sudah pernah menonton beberapa film berdasarkan serial ini yang diproduksi di tahun 1980 dan 1990an, dan sebenarnya aku menikmatinya sih. Yang paling berkesan di ingatanku adalah Star Trek IV: The Voyage Home, yang dirilis di tahun 1986, tapi baru aku tonton sekitar 10an tahun kemudian di tahun 1990an (karena jelas lah ya bahkan aku belum lahir di tahun 1986, haha 😛 ).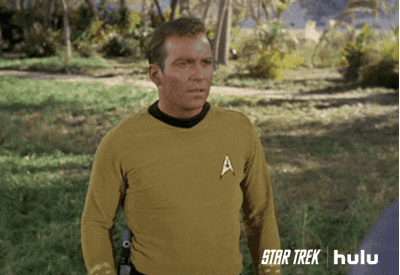 Anyway, aku pikir menonton satu episode nggak apa-apa lah. Aku putuskan untuk mencicipinya dan setelahnya baru kuputuskan apakah mau lanjut menontonnya atau tidak. Yang mengejutkanku, ternyata aku menikmatinya dong!! Visualnya yang jelas "ketinggalan zaman" tidak begitu menggangguku (Walaupun memang sih, aku mendapatkan versi remastered-nya di Netflix yang mana kualitas visualnya juga sudah ditingkatkan dengan teknologi. Harus diakui ini sangat membantu); dan jalan ceritanya sendiri memang keren dan seru banget, dan "senada" dengan "konsepku" akan Star Trek. Dan jadilah aku putuskan aku akan menonton serial ini!! 😀 Dan juga sekarang aku bisa bilang bahwa aku lega karena ternyata aku tidak "sedangkal" itu, haha 😛 .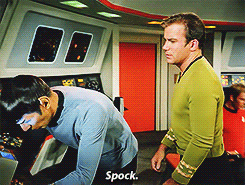 Dan memang serial ini klasik banget deh! Tak perlu kuceritakan lebih jauh bahwa aku menikmatinya; dan sekarang aku lebih tidak heran mengapa adaptasi-adaptasi barunya (seri film yang sudah diproduksi sejak tahun 2009 dan juga Star Trek: Discovery) bersandar ke TOS ini bukannya ke eranya "The Next Generation". Aku lumayan yakin salah satu alasannya adalah TOS ini lebih "mentah", dalam artian jalan ceritanya tidak begitu sarat politis ataupun fokus pada konflik internal kita sebagai manusia (sehingga bisa dibilang "lebih sederhana") yang mana artinya lebih banyak bumbu "action" yang bisa dibubuhkan; tapi semua ini masih diatur dengan keseimbangan yang pas sehingga acaranya menjadi sebuah acara klasik!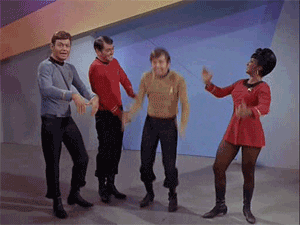 Jadi secara singkatnya: Aku sungguh menikmati serial ini! Sayang cuma ada tiga musim sih…
Walaupun begitu, namanya aja diproduksi di tahun 1960an, jelas serial ini juga dipengaruhi oleh kehidupan di era tahun segituan lah ya. Salah satu aspek yang nampak jelas adalah pekerjaan dan posisi dari beberapa karakter perempuan dan penggambaran karakter-karakter ini. Eh, tentu sangat tidak adil, dan tidak benar, juga untuk memandang penggambaran ini dengan menggunakan kacamata zaman sekarang ya. Tapi setidaknya bisa kubilang bahwa aku sungguh senang akan kemajuan umat manusia dalam 50 tahun terakhir ini! Walaupun begitu, kebetulan banget satu kalimat dari Kapten Janeway di Star Trek: Voyager berikut ini merangkum semua ini dengan pas.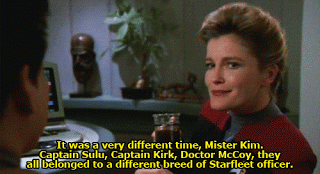 Jadi, apakah ada yang sudah menonton serial ini juga? Dan jika demikian, bagaimanakah pendapatmu?