ENGLISH
You know this year has been quite weird climate-wise in Europe. First of all, we had a long Winter which extended up to March with the Beast from the East "attack". Then for whatever reason Spring was basically skipped where Summer started early. Even just not too long ago a really big heatwave struck Europe where it was almost unbearable hot here. It was very unusual to have an extended stretch of days with hot temperature here in the Netherlands in the Summer!
Thankfully now the heatwave has passed and the current forecast of the next two weeks or so looks "good" (As in no prediction of 30°C+ (yet), yay! 😛 ). Though, thus far I feel like this comes with "a price" as well.
These days have been really cloudy, with few sprouts of rain here and there. While I understand that perhaps I'm not supposed to complain after my "rant" of those (unbearably) hot days, I also don't really enjoy this because this is typical Fall weather, the season I like the least! A few times it has happened recently where I had, what I call, the "Fall mood" where it felt quite "gloomy" at work. And let me remind you, this is still the middle of August for eff sake! 😤
And it seems that it is not just me who gets "confused" by this. Even the nature itself looks "confused", as this kind of view has emerged in Amsterdam just recently.
Let me remind you again, this is still mid-August!
But to be honest, though, if forced to choose between unbearably hot days and gloomy cloudy days, perhaps I would go with the latter; though this is a very tough choice to make. But my question is, why does this question have to be even asked? Why can't we have days with nice and enjoyable weather? Haha 😆 .
Oh well, c'est la vie…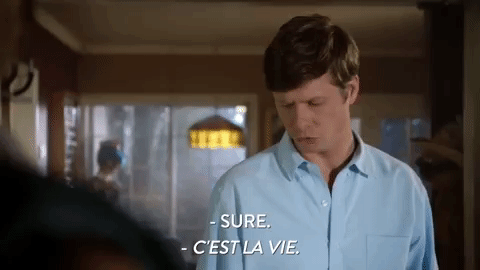 BAHASA INDONESIA
Sudah kuceritakan bahwa tahun ini iklim di Eropa amat lah tidak biasa. Pertama-tama, musim dingin yang lalu berlangsung panjang banget yang mana bahkan masih berlangsung hingga bulan Maret ketika Beast from the East "menyerang". Lalu entah karena alasan apa musim semi rasanya seperti diloncati begitu saja dengan musim panas yang dimulai awal. Lalu, belum lama ini gelombang panas juga menerjang Eropa dimana di sini rasanya panas banget. Di Belanda, sangat tidak biasa untuk mendapatkan hari-hari berturutan dengan cuaca yang panas, bahkan di musim panas!
Untungnya sekarang gelombang panasnya sudah lewat dan saat ini ramalan cuacanya untuk dua mingguan ke depan "bagus" lah (Maksudnya nggak ada hari yang diramal suhu udaranya di atas 30°C, hore! 😛 ). Walaupun begini, aku merasa kok ada "harga" yang harus dibayar dengan ini ya.
Belakangan ini cuaca amat lah berawan, dimana terkadang hujan turun di sana-sini. Walaupun aku paham bahwa mungkin aku tidak berhak untuk komplain setelah aku sendiri "ribut" akan hari-hari yang panas(nya nggak tahan) itu, sejujurnya aku tidak terlalu menikmati cuaca ini juga karena ini adalah cuaca tipikalnya musim gugur, musim yang paling tidak aku sukai! Sudah kejadian beberapa kali akhir-akhir ini dimana aku mengalami apa yang aku sebut "mood musim gugur" dimana rasanya "gloomy" di kantor. Dan aku ingatkan, ini masih pertengahan bulan Agustus ya! 😤
Dan nampaknya bukan aku saja loh yang "dibingungkan" dengan ini. Bahkan alamnya sendiri pun nampak "bingung", karena pemandangan kayak begini ini sudah mulai muncul di Amsterdam baru-baru ini.
Dan aku ingatkan lagi, ini masih pertengahan Agustus loh!
Tapi sejujurnya sih, jika dipaksa memilih antara hari-hari yang panasnya mana tahan dan hari-hari berawan gloomy, mungkin aku akan memilih pilihan yang kedua; walaupun ini adalah pilihan yang sulit sekali. Tapi pertanyaanku adalah, mengapa kok pertanyaan pilihan ini harus ditanyakan? Mengapa kok kita tidak bisa mendapatkan cuaca yang oke dan bisa dinikmati gitu? Haha 😆
Ah ya sudah lah apa boleh buat, c'est la vie…