ENGLISH
Earlier this year I shared about a "new" series I followed on Netflix, Orange Is The New Black (OITNB). Btw, "new" as in I just discovered it late last year in my Netflix library while the show's first season was actually released way back in 2013, haha 😆 . Anyway, as I said back then, I liked the series and finished watching the entire five seasons in no time (Though as I said, the show was quite vulgar). Okay, "in no time" is clearly an exaggeration as each episode was at least almost 60 minutes in length (with no commercial break) so it did take me a few months to finish them all.
And last weekend, the show's newest season, its sixth one, was released! So of course I was quite happy as I had finished remarathoning Star Trek: TNG anyway so the timing was quite perfect for that, haha. Plus, the release date was also a Friday just before a weekend I had no travelling plan as well. Even better! Lol 😆 .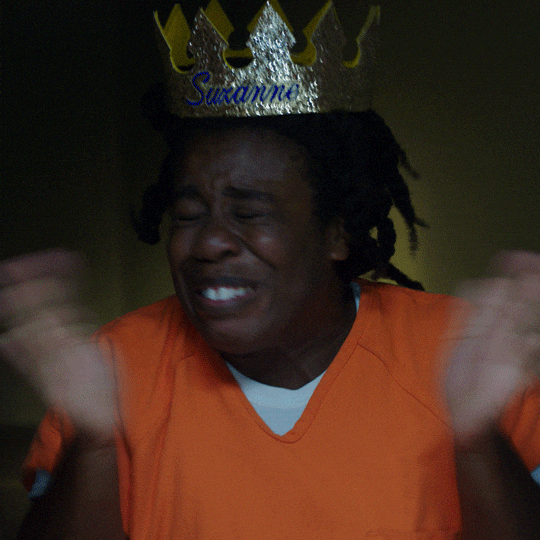 As usual, the sixth series consisted of 13 (long) episodes, and I binge-watched 11 of them through that weekend, haha 🙈 (Don't judge, it was my resting weekend after a weekend trip the weekend before and surviving through a Summer heatwave during the week 🙈). I watched the 12th episode on Monday evening and the 1.5-hour long season finale on Tuesday. So yeah, I finished the entire season in just five days, haha 😆 .
Anyway, I really liked this season!! IMO, it was much better than the fifth season (which, IMO, was the worst); and also in the sense that it built on the mess that was that season. And to me this was what was especially good about this season, as this "arc", where the involved inmates and guards had to deal with all the situations (personal and legal) following the riot in the fifth season, was the one I enjoyed the most!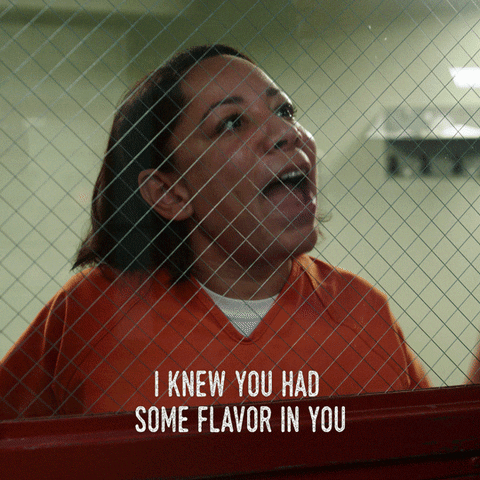 The season was closed with a strong finale. A (rather pointless, IMO) story arc was concluded with hints of positive universal message; and, more intriguingly, some (more interesting, IMO) arcs just went even more intricate with all the injustice, ass-saving, greed, and all that; and, thus, just got more interesting. Very OINTB if you must ask me. So yeah, I cannot wait for the seventh season now! But now, unlike when I finished season five earlier this year, I really have to wait for (almost) a year for real, haha 😅.
So in the meantime, do you have any suggestions on any series you think I should follow now?
P.S: Please don't say Games of Thrones as you would be like the 4768735th person who would recommend this show to me; and yes, up to now I still haven't seen a single episode of it, despite already going on a Game of Thrones tour in Northern Ireland almost three years ago, lol 😆 .
BAHASA INDONESIA
Awal tahun ini aku ceritakan tentang serial "baru" yang aku ikuti di Netflix, Orange Is The New Black (OITNB). Btw, "baru" maksudnya aku baru menemukannya akhir tahun kemarin di Netflix sementara sebenarnya musim pertama acaranya dirilis di tahun 2013, haha 😆 . Anyway, seperti yang kuceritakan waktu itu, aku suka acaranya dan aku menonton kesemua lima musimnya langsung sampai habis (Walaupun seperti yang kubilang, acaranya tergolong vulgar, haha). Oke, "langsung sampai habis" memang agak berlebihan karena setiap episodenya itu setidaknya sepanjang hampir 60 menit (tanpa iklan) jadi ya memang aku membutuhkan sekian bulan lah untuk menyelesaikan semuanya.
Dan akhir pekan kemarin ini, musim terbaru acaranya, musim keenam, dirilis! Jelas dong aku merasa senang karena waktu itu aku juga sudah selesai marathon menonton ulang Star Trek: TNG jadi timing-nya kan memang pas banget ya, haha. Apalagi, tanggal rilisnya adalah di hari Jumat sebelum akhir pekan yang mana aku tidak berencana untuk jalan-jalan juga. Pas banget deh pokoknya! Haha 😆 .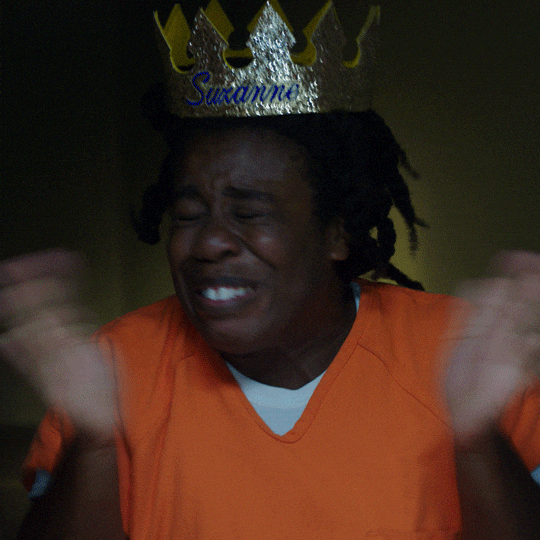 Seperti biasa, musim keenam ini terdiri dari 13 episode (panjang), dan aku menonton 11 di antaranya sepanjang akhir pekan itu, haha haha 🙈 (Eh jangan judging gitu dong, akhir pekan itu memang akhir pekan dimana aku butuh beristirahat setelah jalan-jalan di akhir pekan sebelumnya dan bertahan hidup menghadapi gelombang musim pans yang menerjan Eropa di sepanjang minggu itu 🙈). Episode ke-12nya aku tonton di hari Senin malam, dan episode terakhirnya yang sepanjang 1,5 jam di hari Selasa. Jadi, iya, satu musim aku selesaikan dalam waktu lima hari saja, haha 😆 .
Anyway, aku suka dengan musim ini!! Menurutku, musim ini lebih bagus daripada musim kelima (yang, menurutku, adalah yang terburuk); dan juga dalam hal cerita dimana musim ini "membangun" dari puing-puing cerita yang ditinggalkan di musim sebelumnya. Dan untukku ini lah yang sangat menarik dari musim ini, karena "jalan cerita" ini, dimana tahanan dan sipir-sipir yang terlibat harus menghadapi situasi (baik itu personal maupun legal) dari kekacauan (riot) di musim kelima!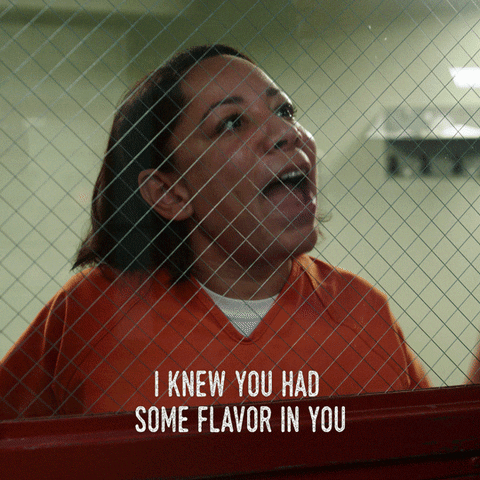 Musim ini juga ditutup dengan episode terakhir yang ceritanya "kuat". Satu jalan cerita (yang menurutku tidak berguna dan kurang menarik) terselesaikan dengan pesan universal positif; dan, lebih serunya, beberapa jalan cerita lainnya (yang, menurutku, jauh lebih menarik) bertambah ruwet dan kacau akibat ketidak-adilan, kepengecutan, keserakahan, dan lain-lainnya itu lah; sehingga malah jadi tambah menarik kan ya. Sangat OINTB gitu menurutku. Jadi, aku sudah nggak sabar nih untuk musim ketujuh! Tapi sekarang, nggak kayak beberapa bulan lalu ketika aku selesai menonton musim kelima, aku beneran harus menunggu (hampir) satu tahun nih untuknya, haha 😅.
Nah, jadi untuk sementara itu, apakah ada yang punya masukan akan serial bagus yang bisa aku ikuti?
P.S: Tolong jangan bilang Games of Thrones yah karena kamu akan menjadi orang ke-4768735 yang merekomendasikan acara ini kepadaku. Dan ya, bahkan sampai sekarang aku masih belum menonton satu episode pun; walaupun aku sudah pernah ikutan tur Game of Thrones di Irlandia Utara hampir tiga tahun yang lalu, hahaha 😆 .