ENGLISH
So last year I decided to marathon-watch Star Trek: Voyager via Netflix. And obviously by now I have finished the entire seven seasons of the series, haha.
Since then, as my Instagram followers (@azilko) through the cool Instagram Story feature would have perhaps known, I have actually decided to rewatch two other Star Trek series: Star Trek: Enterprise (2001-2005) and the super popular Star Trek: The Next Generation (1987-1994)!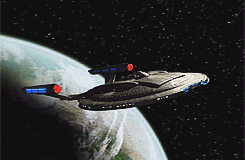 I rewatched Star Trek: Enterprise first. Call me shallow, I made this decision because this series was the newest of all (well, apart from Star Trek Discovery of course), which would imply it had the best visual/graphic of all the series. I mean, I have to admit that visual plays a great role in my enjoyment of a TV-series. And obviously, having been spoiled with the recent advancement in this department put the older series in serious disadvantage in my eyes!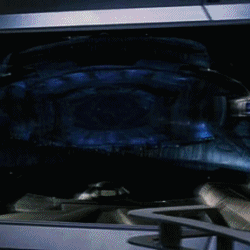 Anyway, while overall I still enjoyed the series, I understood why this series was cancelled just after four seasons. The first two seasons were so "bad", in the sense that I felt like they focused on the "wrong" things with generally shallower content AND much less action. The third season was the best one with the exciting Xindi-arc; but the damage had already been done by the first two seasons so I could imagine the rating was difficult to recover. I found the fourth season not as exciting as the third but was still better than the first two, haha.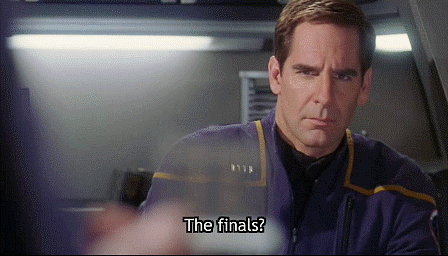 After I completed Star Trek: Enterprise, I hesitatingly decided to give the super popular Star Trek: The New Generation (TNG) a chance. To my pleasant surprise, apparently a few years ago there was a remastering project going for the entire series, which basically improved the visual/graphic A LOT! It happened that my Netflix contained this remastered version!! I love you Netflix! Haha 😛 .
Btw, I did watch quite some episodes of this series when I was a kid, but I didn't remember most of them as those were from before the Voyager era, even the first season was premiered a year before I was born! Lol 😆 .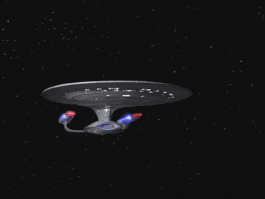 Anyway, this series blew my mind! It was, indeed, really, really good; and I do appreciate it much more now than I perhaps was when I was just a kid!! No wonder it was THAT popular! This was the Star Trek that I (unconsciously) remembered, the benchmark which I used when reviewing the first season of Discovery. Except for the visual effect, TNG beat Discovery in pretty much all aspects, IMO, haha.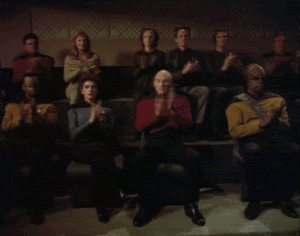 The story was amazing, as it was relatable to our (my) daily life. It was very easy to perceive the USS Enterprise-D like my real office. There was a lot of focus on interpersonal relationship between the crews in the starship, which I could easily interpret like my real interpersonal relationship with my colleagues at work. Even some of the stories were actually really relevant to some of my current situations at work, which put me into perspective and think about my own career, both in the short- and long-term.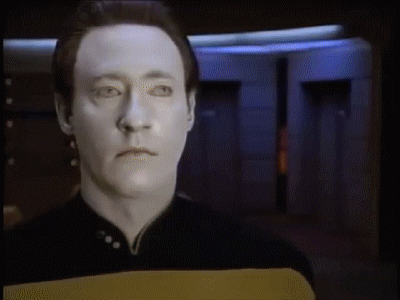 And it was not boring too. There were a few humorous and full-of-action episodes here and there. Though, of course there were a few bad apples here and there; but those were not significant. In short, this series was just amazing. And, as you know, this series was the source of many popular internet memes too, haha 😛 .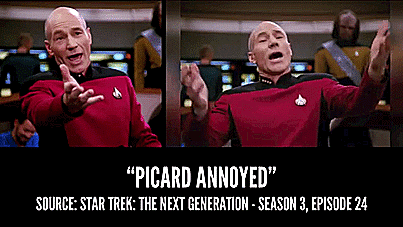 And fittingly, the series was closed with such a great ender in the episode "All Good Things…". It was definitely one of the best Star Trek episodes I have ever watched!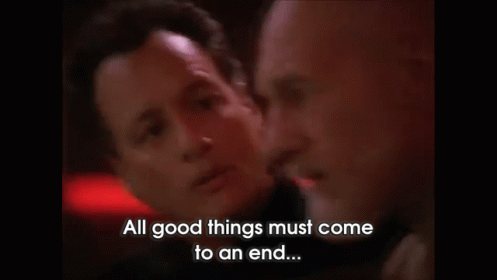 ***
It was unfortunate that I watched Enterprise just before TNG, as the contrast in quality became really glaring. Well, at least it was an upward experince that I had to go through, haha. And it was also quite funny that Enterprise's last episode actually took place in the Holodeck of USS Enterprise-D; as if it was an episode of TNG, haha.
Anyway, so, do you watch Enterprise and TNG?
BAHASA INDONESIA
Tahun lalu aku memutuskan untuk menonton ulang Star Trek: Voyager secara marathon melalui Netflix. Dan jelas dong ya sekarang aku sudah selesai menonton-ulang kesemua tujuh musimnya, haha.
Semenjak waktu itu, seperti yang followers Instagram-ku (@azilko) ketahui melalui fitur InstaStory yang lagi happening ini, aku telah memutuskan untuk menonton-ulang dua seri Star Trek yang lainnya, yaitu: Star Trek: Enterprise (2001-2005) dan Star Trek: The Next Generation (1987-1994) yang sangat amat populer itu!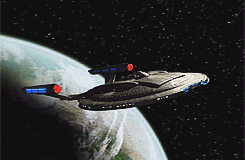 Star Trek: Enterprise aku tonton ulang terlebih dahulu. Bilang saja aku shallow atau receh, keputusan ini aku buat karena ini adalah seri yang paling baru (di luar Star Trek Discovery tentunya), yang mana berarti visual/grafiknya juga yang paling baik kan dari semua serinya. Maksudku, aku harus mengakui bahwa faktor visual itu penting banget bagiku dari sebuah acara TV untuk bisa aku nikmati. Dan jelas saja sudah dimanjakan dengan kemajuan teknologi di bidang ini membuat posisi seri-seri lawas menjadi tidak diuntungkan bagi mataku.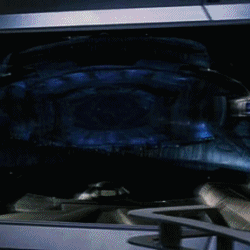 Anyway, walau secara keseluruhan serinya masih bisa aku nikmati, aku paham mengapa seri ini kok hanya bertahan empat musim saja. Dua musim pertamanya itu jelek banget, dalam artian aku merasa serinya fokus pada hal-hal yang "salah" yang mana receh dan dangkal gitu, ditambah pula action-nya sedikit. Musim ketiga adalah musim yang terbaik dengan jalan cerita Xindi di sepanjang musim ini yang amat seru; tapi ya kerusakan sudah terlanjur dibuat di dua musim pertama sehingga nggak mengherankan juga rating-nya sulit dipulihkan. Musim keempat bagiku tidak seseru musim ketiga tapi masih jauh lebih baik daripada dua musim pertama, haha.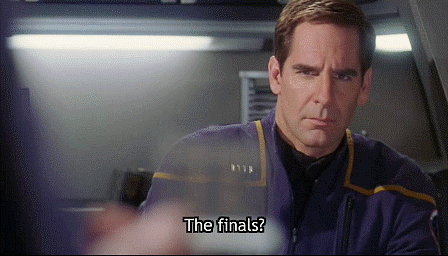 Setelah menyelesaikan Star Trek: Enterprise, dengan agak ragu aku memutuskan untuk mulai menonton-ulang Star Trek: The New Generation (TNG) yang sangat amat populer itu. Yang mengejutkanku, ternyata beberapa tahun yang lalu seri ini melalui sebuah proyek remastering, yang mana pada dasarnya visual/grafiknya diperbaiki secara signifikan! Kebetulan pula Netflix menayangkan versi yang sudah di-remastered ini!! I love you Netflix! Haha 😛 .
Btw, sewaktu kecil aku menonton lumayan banyak episode dari seri ini sebenarnya, tapi aku juga tidak ingat karena seri ini kan bahkan dari era sebelumnya Voyager ya, bahkan musim pertamanya ditayangkan setahun sebelum aku dilahirkan! Haha 😆 .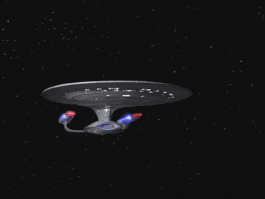 Anyway, dan pilihanku untuk menonton-ulang ini adalah keputusan yang tepat karena seri ini benar-benar mengagumkanku lho! Serinya beneran bagus, bagus, bagus banget; dan aku bisa lebih memahami dan menghargainya sekarang daripada sewaktu kecil dulu!! Nggak heran deh mengapa serinya bisa sepopuler ITU! Ini adalah Star Trek yang (secara tidak aku sadari) aku ingat, yang menjadi patokan dalam upayaku me-review musim pertamanya Discovery. Selain efek visualnya, TNG jauh lebih superior daripada Discovery di hampir semua aspek, menurutku, haha.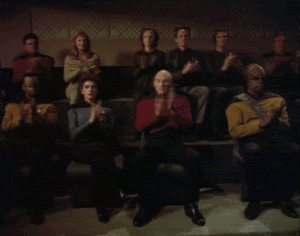 Cerita-ceritanya keren banget, dan banyak yang bisa dikaitkan dengan kehidupan sehari-hari(ku). Sangat mudah untuk mengasosiasikan pesawat USS Enterprise-D dengan kantorku. Ada banyak banget cerita yang fokus kepada hubungan interpersonal antar kru pesawatnya, yang mana bisa dengan mudah aku asosiasikan dengan hubungan interpersonalku yang nyata dengan kolega-kolegaku di kantor. Bahkan ada beberapa ceritanya yang sangat amat pas dan bisa pas banget cocok dengan situasi yang sedang aku hadapi di kantor, yang memberikanku sebuah perspektif baru dan membuatku berpikir akan langkah-langkahku dalam meniti karirku, baik dalam jangka pendek maupun jangka panjang.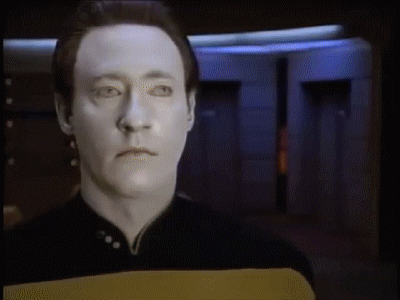 Dan acaranya juga tidak membosankan. Ada banyak episode yang fokus terhadap sisi humor atau action. Walaupun tentu saja ada beberapa episode yang nggak bagus juga sih tapi jumlahnya tidak banyak. Secara singkat, seri ini keren dan bagus banget. Dan mungkin pada tahu bahwa seri ini juga lah sumber dari banyak meme internet yang terkenal, haha 😛 .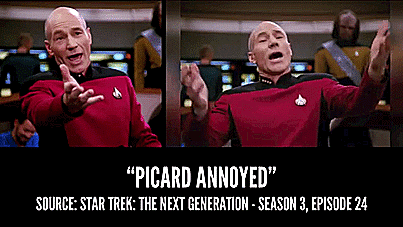 Dan cocoknya, serinya diakhiri dengan episode "All Good Things…" yang mana sangat amat keren sekali. Episode ini adalah salah satu episodenya Star Trek yang terbaik yang pernah aku tonton!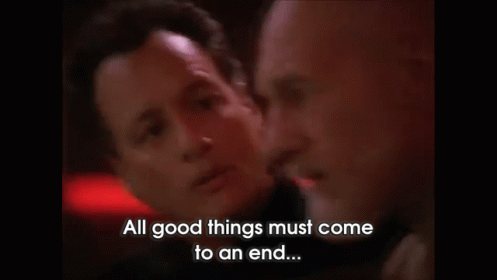 ***
Agak disayangkan juga sih aku menonton Enterprise tepat sebelum TNG, karena perbedaan di kualitasnya jadi terasa kontras sekali. Yah, setidaknya sih pengalaman yang aku rasakan mengarah naik sih, haha. Dan sebenarnya kalau dipikir-pikir lucu juga episode terakhirnya Enterprise mengambil tempat di Holodeck-nya USS Enterprise-D; seakan-akan episode ini adalah satu episodenya TNG.
Anyway, apakah ada yang juga menonton Enterprise dan TNG?