ENGLISH
From my experience, this Summer has been a rather unusual Summer in the Netherlands. "Unusual" as in it hasn't rained that often, the temperature has, in many days, been in the warmer scale, and, most surprisingly, the weather has been sunny in many days too!! This trend has occurred since around May though which, after a long Winter, made me feel like we skipped Spring and jumped immediately from Winter to Summer! Lol 😆 .
And this was great news (and surprise) to many people. But not to me, haha 😆 . You know I generally prefer colder than warmer temperature. And warm temperature actually makes me feel a little bit uncomfortable! Okay, to be fair, it hasn't been that "bad" in Amsterdam as thus far I can still "tolerate" it; as thankfully the humidity has not been as extreme as, say, in Indonesia, haha…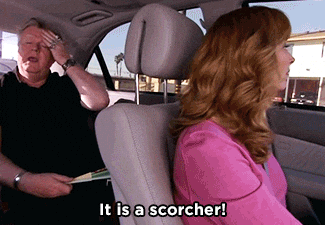 You know, but this made me glad for my decision to move to an apartment in a new building in Amsterdam last year. I mean, had I lived in one of those super cute and beautiful old buildings from the 18th or 19th century (like my previous apartment in Delft), this Summer would have felt like Hell (As I notice that those buildings tend to preserve heat, which obviously is a good thing in Winter, though)!! Lol 😆
So yeah, let's just say that weather-wise, this Summer hasn't been my favorite. And unfortunately for me, the next season will be the Fall, that is my least favorite season of the four, haha.
BAHASA INDONESIA
Dari pengalamanku, Musim Panas kali ini di Belanda agak tidak biasa dibandingkan biasanya. "Tidak biasa" dalam artian sejauh ini cuacanya jarang hujan, suhu udaranya, di banyak hari, tergolong panas, dan, yang paling mengejutkan, cukup banyak hari yang mana cuacanya cerah dong!! Tren ini sebenarnya sudah mulai nampak semenjak Mei yang lalu sih yang mana, setelah Musim Dingin yang panjang, membuatku merasa seperti kita kemarin meloncati Musim Semi dimana musim berganti dari Musim Dingin langsung ke Musim Panas! Haha 😆 .
Sebenarnya ini adalah berita (dan kejutan) yang baik bagi banyak orang. Tapi tidak untukku, haha 😆 . Tahu kan secara umum aku lebih suka suhu udara yang dingin daripada panas. Dan suhu udara panas itu bagiku terasa tidak nyaman! Oke, sejujurnya nih, sebenarnya suhu udara panas di Amsterdam ini masih bisa aku toleransi sih; karena untungnya kelembaban-udaranya tidak tinggi-tinggi amat kayak di, misalnya, Indonesia, haha…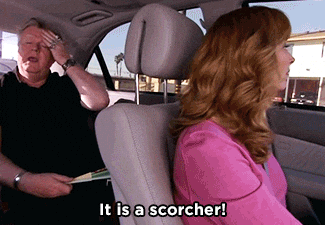 Ini membuatku bersyukur akan keputusanku untuk pindah ke sebuah apartemen di bangunan yang baru di Amsterdam tahun lalu. Maksudku, andaikata aku tinggal di suatu bangunan yang imut dan indah tapi tua banget karena dibangun di abad ke-18 atau 19 itu (kayak apartemenku sebelumnya di Delft), Musim Panas kali ini bakal terasa seperti Neraka deh (Aku perhatikan bangunan-bangunan tua di sini cenderung didisain untuk memerangkap panas, yang mana jelas adalah suatu hal yang menguntungkan di Musim Dingin)!! Haha 😆 .
Jadi ya gitu deh, bisa dibilang dari segi cuaca, Musim Panas kali ini bukan favoritku dah. Dan, sialnya, untukku, musim yang selanjutnya kan Musim Gugur ya, yang mana merupakan musim yang paling tidak aku sukai, haha.