ENGLISH
During my tennis lesson last week, this happened:
Yep, for the first time ever since I picked up a tennis racket, I had a broke string during play! Haha 😆 . Thankfully it was during a tennis lesson so I could borrow a racket from the coach for the reminder of the session. Even though of course it wasn't "optimal" for my game because, you know, every tennis player was accustomed to a certain "feel" of the racket (the grip, the stringing tension, the racket surface size, the presence of a damper, etc). And so it was unlikely that a borrowed racket would be a perfect match to one's "feel". But this was, of course, a much better situation than not having a racket to play tennis, haha 😛 .
Anyway, I bought this racket in October 2015. Actually the racket still felt fine up to last week's lesson, as since I started working in Amsterdam I haven't been able to play as often as like when I was still in the university; so the racket hadn't been *that* worn out. So this made me think that perhaps broken string had little to do with the "weariness" of a racket, haha.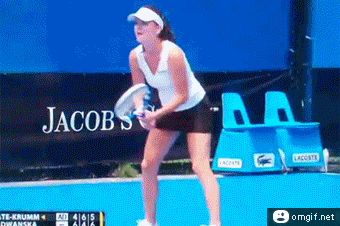 This experience made me feel like a "professional player" though, in a way, who quite often had a broken string while playing a match! (Actually I had wondered why I had not had a broken string as I had played for years, whereas it felt like at least in one of two or three professional matches that I watched a string of one of the players' rackets broke, haha).
Anyway so of course I could have had the racket restrung. But my last experience with racket restringing wasn't the bestest one. At the time I felt like the string tension after restringing wasn't the same and it didn't "feel" right. Okay, a logical explanation for that was perhaps the tension was "wrong". However, as Barney Stinson said…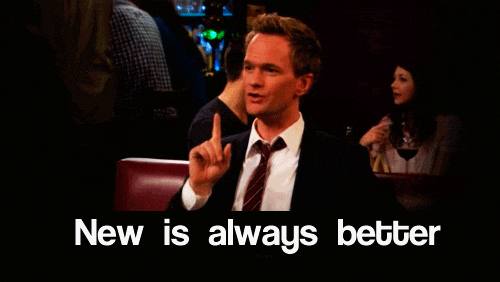 and so I decided to just go with the easiest option and buy a new racket, haha 😛 .
I went to a store in Amsterdam Centrum after work on Friday, though before that I already browsed for some options at an online tennis store. I knew that I would like a Wilson racket because Wilson was the brand the Williams sisters used, lol 😛 (#truefans). I almost bought one at the store, but then I didn't because at the very last second I decided to choose the model I had seen earlier online: the Blade 104 model used by Venus Williams, haha 🙈. The store in Amsterdam didn't have this particular model in stock at the time. And yesterday, my new racket was delivered to me 😀 . Btw, the nice thing about this online store was that they were able to customize the string too to my own specification! 🙂
BAHASA INDONESIA
Di les tenisku minggu lalu, ini terjadi:
Iya dong, untuk pertama kalinya semenjak aku mulai bermain tenis, aku mengalami yang namanya senar raketnya putus ketika aku bermain! Haha 😆 . Untungnya kejadiannya adalah ketika les sih sehingga aku bisa meminjam raket dari pelatihnya untuk sisa dari sesi les kali itu. Walaupun jelas ini nggak "optimal" karena setiap pemain itu memiliki "feeling"-nya sendiri dengan raketnya (pegangannya, tegangan senarnya, luas permukaan raketnya, apakah pakai damper atau tidak, dll). Dan jadilah raket pinjaman itu seringnya tidak memiliki "feel" yang pas banget dengan kita. Ah, tapi ini adalah situasi yang lebih baik ya daripada main tenis tapi nggak punya raketnya, iya kan, haha 😛 .
Anyway, raket ini aku beli di bulan Oktober 2015. Sebenarnya raketnya masih baik-baik saja kok sampai sesi les minggu lalu itu, karena toh semenjak aku mulai bekerja di Amsterdam aku tidak bisa bermain tenis sesering dulu ketika masih di universitas; jadilah raketnya masih belum se-"usang" itu. Ini membuatku berpikir mungkin yang namanya senar yang putus itu tidak ada hubungannya dengan "keusangan" sebuah raket, haha.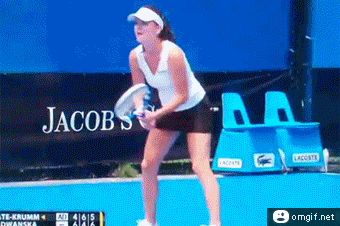 Pengalaman ini membuatku merasa seperti "petenis profesional" nih, di satu sisi, yang mana nampak sering mengalami kejadian senar putus ketika bermain suatu pertandingan! (Sebenarnya sempat terpikirkan olehku lho mengapa kok aku tidak pernah mengalami senar raket tenis yang putus padahal aku sudah main tenis bertahun-tahun, sementara rasanya setidaknya di satu dari dua atau tiga pertandingan profesional yang aku tonton, senar dari salah satu raket yang digunakan pemainnya itu putus, haha).
Anyway jelas sebenarnya bisa saja raketku di-restring. Tapi pengalaman terakhirku dengan me-restring raketku ternyata bukan pengalaman yang terbaik. Maksudnya, waktu itu rasanya tegangan senarnya setelah di-restring nggak sama sehingga "feel" raketnya rasanya jadi aneh gitu. Iya, iya, penjelasan logisnya adalah kemungkinan besar memang tegangannya aja yang waktu itu "salah". Tapi, seperti katanya Barney Stinson kan…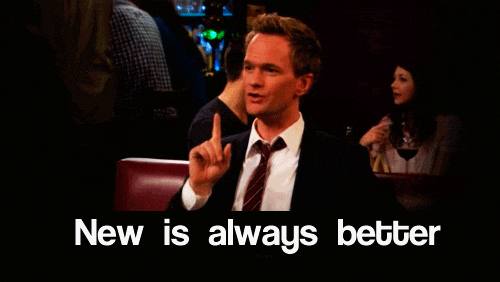 dan jadilah aku memutuskan mengambil pilihan yang mudah aja dan membeli raket tenis baru, haha 😛 .
Aku pergi ke sebuah toko peralatan olahraga di Amsterdam Centrum sepulang kerja di hari Jumat; eh tapi sebelumnya aku sudah mengecek satu toko online juga sih. Aku sih sudah tahu aku akan membeli raketnya Wilson lagi karena merk ini adalah merk yang dipakai Williams bersaudari, haha 😛 (#truefans). Aku nyaris membeli satu raket di tokonya, tapi kemudian last minute aku membatalkan niatan itu karena aku memutuskan untuk membeli model yang sudah aku lihat di internet sebelumnya: model Blade 104 yang dipakai oleh Venus Williams, haha 🙈. Btw tokonya di centrum pas kebetulan tidak memiliki stok model yang ini waktu itu. Dan kemarin, raket baruku akhirnya tiba di tanganku 😀 . Btw, asyiknya toko online ini adalah mereka bisa meng-customize string-nya sesuai dengan spesifikasi yang aku inginkan lho! 🙂