ENGLISH
French Open Coverage
So last week the French Open was concluded. I even went to Paris for the women's singles final and men's doubles final last weekend.
Anyway related to this tennis tournament, last year I was happy with my tv cable subscription as it also had two (sometimes three) channels covering some of the main tennis tournaments, including the French Open. This year, however, I was slightly disappointed with the coverage of the French Open 😛 . This was because, especially in the first week of the tournament, quite often the matches that I were most interested in were not aired in those channels (There were more channels for tennis but I would need extra subscription for those).
It wasn't "deliberate" or anything, as it was more of my bad luck with the scheduling. I mean, once the channel aired the first round match between Kiki Bertens and Aryna Sabalenka over Serena Williams' first grandslam match since giving birth to her daughter versus Kristýna Plíšková, haha. I mean, I got it that Kiki Bertens was Dutch and so this was why she got the "priority" as it happened that both matches took place concurrently, but still 😛 (Thankfully, a Belgian channel covered Serena's match so afterall it was ok).
But you know, somehow I got the general feeling of "disappointment" with this year's coverage of the French Open in the first week, haha…
The Injury
Anyway speaking of sport, last week I mentioned that I just realized I had a slight knee injury which frustrated me a little bit because it hindered me from my short-term goal of intensifying my cardio training a little bit more to accelerate my body fat percentage loss, haha.
Actually on my gym session that day I published the post, I decided to "test the water" right away by intensifying my cardio session a little bit. Obviously the injury hadn't been healed yet but at the same time I would like to know how "bad" it actually was. And it turned out to be not as bad as I thought, haha. While I still "felt" it, it didn't prevent me from finishing my cardio. Though, of course I still used my common sense by not really pushing it too much.
But so far so good! 😀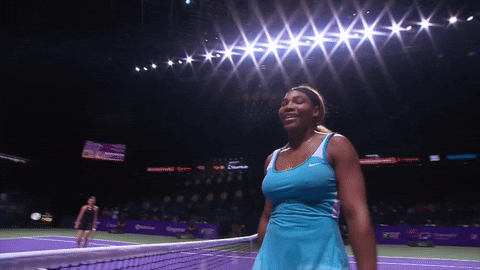 BAHASA INDONESIA
Penayangan French Open
Jadi ceritanya minggu lalu turnamen tenis French Open selesai. Aku bahkan pergi ke Paris untuk menonton babak final tunggal putri dan ganda putranya akhir pekan kemarin ini.
Anyway berkaitan dengan turnamen tenis ini, tahun lalu aku merasa senang dengan keputusanku untuk berlangganan tv kabel karena aku jadi memiliki dua (kadang tiga) saluran tv yang menayangkan beberapa turnamen-turnamen tenis besar, termasuk French Open ini. Tahun ini, tapinya, aku sedikit merasa kecewa dengan penayangan French Open-nya 😛 . Terutama di minggu pertama turnamennya sih, dimana ada beberapa pertandingan yang mana aku tertarik tetapi tidak ditayangkan di saluran-saluran tersebut (Sebenarnya ada lebih banyak saluran lagi yang menayangkan semua pertandingannya tetapi aku harus berlangganan ekstra untuk itu).
Ini bukannya "disengaja" atau gimana sih, karena sebenarnya ya ini adalah kesialanku aja dengan jadwal pertandingannya. Misalnya, suatu kali salurannya menayangkan pertandingan babak pertama antara Kiki Bertens dan Aryna Sabalenka dong dan bukannya pertandingan grandslam pertama-nya Serena Williams setelah melahirkan anak perempuannya melawan Kristýna Plíšková, haha. Iya sih aku paham Kiki Bertens itu adalah pemain Belanda jadilah ia mendapatkan "prioritas" karena kedua pertandingan ini kebetulan kok dimainkan bersamaa, tapi tetap aja lah ya 😛 (Untungnya waktu itu ada saluran Belgia yang menayangkan pertandingannya Serena sih jadi nggak apa-apa lah).
Tapi intinya adalah, entah mengapa tahun ini aku kok merasa "kecewa" gitu dengan penayangan dari turnamen French Open ini, terutama di minggu pertama, haha…
Cedera
Anyway mumpung ngomongin olahraga, minggu lalu aku ceritakan tentang cedera lutut minorku yang menyebalkanku karena cederanya menjadi penghalang bagiku dalam mencapai tujuan jangka pendekku yaitu meningkatkan intensitas latihan kardio untuk mempercepat proses penurun persentase lemak tubuhku, haha.
Nah jadi sebenarnya di sesi gym-ku di hari posting itu aku publikasikan, aku memutuskan untuk "cek-cek ombak" dengan langsung meningkatkan intensitas sesi kardioku sedikit. Jelas waktu itu cederanya masih belum sembuh, tetapi pada saat yang sama aku juga ingin tahu seberapa "parah" sebenarnya cederanya kan. Dan ternyata tidak separah yang aku takutkan, haha. Walaupun cederanya masih "terasa", tetapi tidak sampai membuatku tidak bisa menyelesaikan target kardioku kok. Ah, tapi jelas aku masih menggunakan akal sehat juga lah ya dimana aku juga tidak terlalu memaksakan target yang tinggi-tinggi amat dulu.
Tapi sejauh ini, so far so good kok! 😀