ENGLISH
I went on a short weekend trip to Munich in mid-April. As I have shared, I forgot to bring my pocket camera on the trip; which unintentionally turned the trip into an experiment for me to measure the "value" of a pocket camera during a trip of mine. As it turned out, it was very valuable because I noticed that I didn't take as many pictures on the trip, and the trip was generally less enjoyable without my camera! Consequently, this post won't have as many pictures as usual simply because I did not take enough for that.
Anyway, a bit uncharacteristically, I also took KLM's direct return Amsterdam – Munich flights for this trip, i.e. without any transit! Both flights were operated by Boeing 737-800, PH-BCA named "Flamingo" on the way to Munich and PH-BXL named "Sperwere" on the way back to Amsterdam. Both were pleasant intra-European flights with KLM as usual and so there is not much too share.
As I also had pretty much half a day in Munich this time, I decided to focus on the area which I had heard nice things about but didn't yet visit on my first trip there two years ago. And the area was the famous Englischer Garten (The English Garden), a large park in the northeastern park of the city.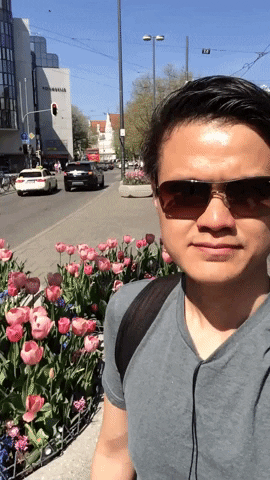 It was supposed to be Spring in Western Europe, but the weather at the time was quite unique, where the it was really sunny and the temperature was hovering around the high 20s Centigrade. To be honest it felt more like Summer than Spring to me, a season which I preferred less, haha 😛 . Nonetheless, especially after a harsh and long Winter and the day being a Saturday, many people decided to take advantage of it by going to the garden. As a result, the Englischer Garten was so full of people, many of them were sunbathing, when I was there! Lol 😆 .
Anyway, I found the Englisher Garten to be beautiful, and it certainly made the city livable! It was also very big, but one needed not to worry because a lot of signages and maps were installed throughout the garden. Uniquely, and perhaps confusingly, one landmark of the garden was the Chinesischer Turm (the Chinese Tower). Yep, a "Chinese" tower in an "English" garden in Munich, "Germany", haha 😆 .
As you know, I am not the biggest fan of warm weather. While the weather today wasn't very warm (I mean, it was nothing like the humid tropical condition on a sunny day!), it was still warm enough to make me feel a little bit uncomfortable outside. So after wandering in the Englischer Garten for about two hours, I decided to go back to the hotel to shower and rest.
As for the food, of course I had local German cuisine on the two full meals I had there. For lunch, I had a turkey schnitzel, which was tasty with an ideal serving size (haha 😆 ). And for dinner, I had a rösche spanferkelhaxn, translated as crispy knuckle of suckling pig which was served with the Bavarian spitzkrout (sour cabbage) and kartoffelknödel (potato dumplings). While I liked the meat, just as before, I didn't really enjoy the cabbage and potato, haha. It was overall very tasty, though 😀 .
BAHASA INDONESIA
Aku pergi dalam perjalanan akhir pekan singkat ke Munich di pertengahan April. Seperti yang sudah kubilang, aku lupa membawa kamera sakuku di perjalanan ini; yang mana justru tidak sengaja membuat perjalanan ini menjadi suatu percobaan bagiku untuk mengukur "nilai" dari kamera saku di perjalananku. Ternyata, kamera saku itu amat bernilai. Ini kuamati dari tidak-banyaknya foto yang aku ambil di perjalanan ini, dan perjalanannya sendiri agak lebih kurang asyik sih tanpa kamera! Sebagai akibatnya, tidak banyak foto yang aku unggah di posting ini karena ya memang tidak ada banyak foto yang aku ambil.
Anyway, agak tidak seperti biasanya, aku terbang langsung pp Amsterdam – Munich dengan KLM di perjalanan ini, alias tanpa transit! Keduanya dioperasikan dengan Boeing 737-800, PH-BCA dengan nama "Flamingo" di keberangkatan dan PH-BXL dengan nama "Sperwer" di kepulangan. Keduanya adalah penerbangan reguler dan nyaman intra-Eropa dengan KLM sehingga tak banyak yang mau kuceritakan di sini.
Karena aku hanya memiliki waktu setengah harian saja di Munich kali ini, aku memutuskan untuk fokus di area yang aku dengar cantik tapi belum sempat aku kunjungi di perjalananku dua tahun yang lalu. Dan area ini adalah Englischer Garten (Taman Inggris), sebuah taman besar dan terkenal di timur laut kotanya.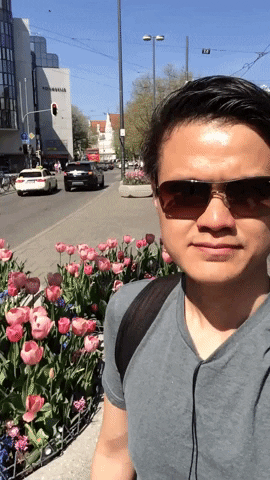 Waktu itu seharusnya adalah Musim Semi di Eropa Barat, tapi cuaca waktu itu cukup unik, dimana matahari bersinar cerah dan temperaturnya berada di kisaran hampir 30 derajat. Sejujurnya rasanya lebih kayak Musim Panas daripada Musim Semi deh, sebuah musim yang lebih tidak aku sukai, haha 😛 . Walaupun begitu, waktu itu kan Eropa baru saja melewati Musim Dingin panjang dan keras ya, jadilah banyak orang yang memanfaatkan cuaca ini dengan pergi ke tamannya. Sebagai akibatnya, Englischer Garten rame banget waktu itu, dimana tentu banyak yang berjemur! Haha 😆 .
Anyway, Englischer Garten memang indah, dan membuat kotanya enak untuk dibuat hidup! Tamannya juga besar, tetapi pengunjung tidak perlu khawatir akan tersasar karena ada banyak petunjuk dan papan peta di seluruh tamannya. Uniknya, dan mungkin membingungkan, satu landmark terkenal di tamannya adalah Chinesischer Turm (Menara China). Iya, menara "China" di sebuah taman "Inggris" di Munich di "Jerman", haha 😆 .
Tentu sudah pada tahu bahwa aku bukanlah seorang fans dari cuaca panas, haha. Walaupun cuaca di Munich hari ini nggak panas yang gila banget (Maksudnya, nggak kayak cuaca lembab di daerah Tropis ketika matahari bersinar cerah!), tetapi cuacanya sudah cukup panas untuk membuatku merasa agak tidak nyaman berada di luar berlama-lama, haha. Jadilah setelah jalan-jalan di Englischer Garten selama sekitar dua jam-an, aku memutuskan kembali ke hotel untuk mandi dan beristirahat.
Untuk urusan makanan, jelas dong aku menikmati masakan setempat di dua kali makanku di sana. Untuk makan siang, aku makan schnitzel daging kalkun, yang mana enak dan ukuran porsinya pun ideal (haha 😆 ). Untuk makan malam, aku makan rösche spanferkelhaxn, yang mana kurang lebih berarti lutut babi crispy yang disajikan dengan spitzkrout (kubis asam) ala Bavaria dan kartoffelknödel (kentang). Walaupun aku suka dagingnya, seperti dulu, aku juga masih kurang bisa menikmati kubis dan kentangnya, haha. Tapi secara keseluruhan enak sih D: .