ENGLISH
In the last four to five months, I have been following Star Trek's most recent series, Star Trek: Discovery. And just this weekend (Well, Monday for the Dutch Netflixer like me), the first season was concluded.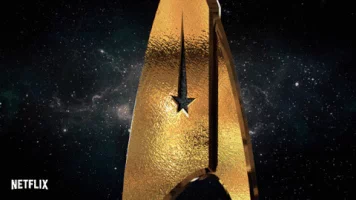 If I have to describe the first season of this new series, I will go with "a series full of plot twists", hahaha 😆 . << Spoiler Alert >> You know, Ash Tyler was actually Voq, Gabriel Lorca was actually from the Mirror universe, Mirror Philippa Georgiou was the cruel and evil emperor of the Terran Empire, and the appointment of Mirror Philippa Georgiou as the captain of USS Discovery after being brought to the Prime (our) universe by Michael Burnham. <<Spoiler Done >> This made this series exciting, to me, as it led me to not know what to expect. Even though at some point I felt like it went overdose with the plot-twisting, lol 😆 .
On the other hand, and I have mentioned this before, this series focused a lot on the action part (Mainly the Federation vs Klingon war and getting trapped in the Mirror Universe and the return attempt) and not at all on the social/interpersonal/intrapersonal conflict aspect like the other Star Trek series. So this definitely gave a really different vibe of a Star Trek series to me.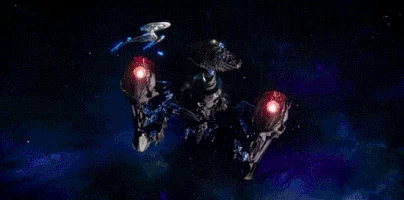 Each episode was also made not independent of each other; and that one would need to follow the series from the beginning to know what was going on. When you watch one of Star Trek: Voyager's episodes, for instance, most of the time you would not need to watch the previous episodes to understand what was going on.
<< Spoiler Alert, Again >>
Ironically, though, IMO the season finale was the "most Star Trek" episode. An away mission (finally!) down to an establishment on an alien planet (Klingon's Qo'Nos) and ending the war with a (to some degree) diplomacy. On one hand this could feel anticlimatic because most of the preceding episodes were full of fights and wars, that one (or I, at least) would expect to see some "actions" in the finale. But on the other hand this made a lot of sense. The story arc in those preceding episodes was "controlled" by a Terran (Mirror Gabriel Lorca and Mirror Philippa Georgiou), who loved and lived on fights and wars. In this episode, the "real" Starfleet and Federation finally took charge, via the lead of Michael Burnham.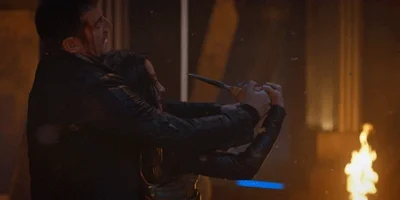 So in the end, I was overall satisfied with the finale! Though, one thing disappointed me a little bit, where they only used one line mentioning that the spore technology was off the table (Starfleet was committed to finding non-human interface, according to Stamets (which, obviously, wasn't successful in the end)). But to top it off, this season ended with the most coolest cliff-hanger ever, where the USS Discovery crew encountered a distress call from … the USS Enterprise!!
Damn now I cannot wait for season two!!
<< Spoiler Ends >>
***
At the end of the day, the biggest and most important question is: "Did I enjoy this new series?" And the answer to this was "Yes!". Haha 😆 So despite the "shift" in the characteristics of Star Trek series (despite the very Star Trek finale), overall I still felt like the writers (and everyone involved) did a great job in creating an enjoyable and exciting series, which made me look forward to it everytime I went back from work on Monday!
And so certainly I am excited that a second season has been ordered, and I am looking forward to it! Even though I still have a little bit of hope that the overall tone of second season will be a little bit "more Star Trek". But nonetheless, we will see!!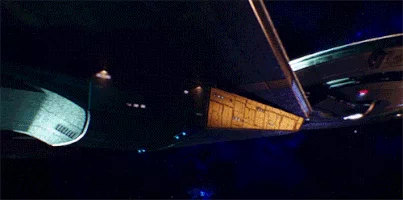 BAHASA INDONESIA
Dalam empat atau lima bulan belakangan, aku telah mengikuti seri terbarunya Star Trek yang dinamai Star Trek: Discovery. Dan akhir pekan kemarin ini (Eh, hari Senin ding untuk pengguna Netflix Belanda kayak aku), musim pertama dari seri ini berakhir.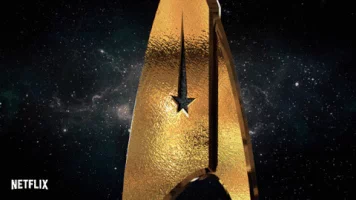 Jika musim pertama dari seri ini harus aku deskripsikan, aku akan menjawabnya dengan "sebuah seri yang penuh plot twists", hahaha 😆 . << Spoiler Alert >> Ya tahu kan, dari Ash Tyler yang mana ternyata adalah Voq, Gabriel Lorca yang ternyata berasal dari alam semesta paralel (Mirror), Philippa Georgiou versi Mirror ternyata adalah kaisar yang kejam dan jahat dari Kekaisaran Terran, dan penunjukkan Philippa Georgiou paralel ini sebagai kapten USS Discovery setelah ia "diculik" oleh Michael Burnham ke alam semesta Prime (alam semesta kita). << Spoiler Selesai >> Ini membuat acaranya seru sih, bagiku, soalnya aku jadi tidak tahu apa yang akan terjadi selanjutnya. Walaupun juga pernah di satu titik rasanya seri ini agak overdosis dengan plot-twisting sih, haha 😆 .
Di sisi lain, dan sudah kusebutkan sebelumnya, seri ini berfokus di sisi action (Dengan garis besar di jalan cerita Perang Federasi vs Klingon dan terjebaknya kru USS Discovery di alam semesta paralel Mirror dan upaya mereka untuk pulang) dan sama sekali tidak menyentuh aspek konflik sosial/interpersonal/intrapersonal seperti di seri-seri Star Trek lainnya. Sebagai akibatnya, nuansa seri ini terasa berbeda sekali dari seri-seri Star Trek lainnya untukku.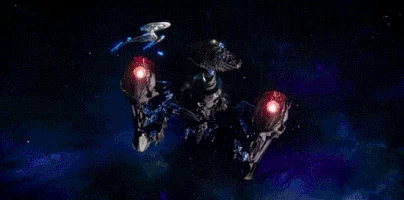 Setiap episode juga tidak dibuat independen satu sama lain; jadi seorang penonton harus mengikuti ceritanya dari awal untuk memahami jalan ceritanya. Ketika kamu menonton satu episodenya Star Trek: Voyager, misalnya, kemungkinan besar kamu masih akan paham jalan ceritanya tanpa harus menonton episode-episode sebelumnya.
<< Spoiler Alert, Lagi >>
Ironisnya, menurutku episode terakhir musim ini justru adalah episode yang "paling Star Trek" dari semua episodenya Discovery. Misi away (akhirnya!) turun ke suatu kota di planet alien (Planet Qo'Nos-nya Klingon) dan mengakhiri perang dengan (kurang lebih) diplomasi. Di satu sisi ini terasa agak anti-klimaks karena episode-episode sebelumnya kan penuh dengan pertarungan dan peperangan, sehingga (bagiku, setidaknya) aku sudah mempersiapkan diriku untuk menonton final yang penuh "action" gitu kan. Tetapi di sisi lain ini sebenarnya justru masuk akal banget lho. Jalan cerita di episode-episode sebelumnya ceritanya kan "dikontrol" oleh bangsa Terran (Gabriel Lorca dan Philippa Georgiou dari alam semesta paralel Mirror), yang memang suka dan hidup dalam pertarungan dan peperangan. Di episode ini, Starfleet dan Federasi "yang sebenarnya" mengambil kontrol kembali, dengan dipimpin oleh Michael Burnham.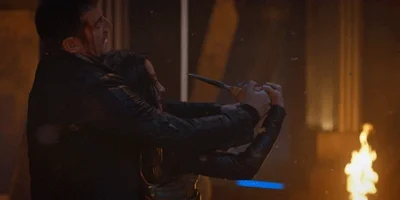 Jadi pada akhirnya, aku sungguh puas dengan akhir dari musim ini! Walaupun satu hal kecil mengecewakanku sedikit sih, dimana hanya satu kalimat saja yang menyebutkan bahwa teknologi spora tidak lagi digunakan (Starfleet berkomitmen untuk mencari cara pemanfaatan teknologi ini tanpa menggunakan manusia, menurut Stamets (yang mana, jelas, upaya yang pada akhirnya gagal)). Tetapi, musim ini diakhiri dengan cliff-hanger yang paling keren banget, dimana kru USS Discovery mendapatkan panggilan darurat dari … USS Enterprise!!
Ahhhh, aku jadi makin nggak sabar kan menunggu musim kedua!!
<< Spoiler Selesai >>
***
Pada akhirnya, pertanyaan terbesar dan paling penting adalah: "Apakah aku menikmati seri baru ini?" Dan untuk pertanyaan ini jawabanku adalah "Iya!". Haha 😆 . Jadi biarpun adalahnya "pergeseran" karakteristik dari seri-seri Star Trek lainnya (walaupun episode terakhirnya Star Trek banget sih), secara keseluruhan toh aku masih merasa penulis naskahnya (dan semua yang terlibat) telah menghasilkan suatu seri yang bagus dan seru, yang mana selalu membuatku bersemangat ketika pulang kantor di hari Senin!
Makanya aku merasa excited dengan berita dimana musim kedua sudah dipesan, sehingga aku nggak sabar untuk menontonnya! Walaupun aku juga sedikit berharap mudah-mudahan nuansa umum musim kedua nanti bakal "lebih Star Trek" sih. Ah, tapi kita lihat saja lah ya!!