ENGLISH
Posts in the 2017 Year End Trip series:
1. Introduction
2. Part I: Getting to California
3. Part II: A Tourist in San Francisco
4. Part III: Alcatraz and Yosemite
5. Part IV: The City of San Francisco
6. Part V: The City of Los Angeles
7. Part VI: Hollywood and Griffith
8. Part VII: More of LA
9. Part VIII: Back to Europe in Business Class
There were a lot of interesting places in San Francisco, and they were all easily accessible with public transport (which was one of the reasons why I liked San Francisco, but more on this later in the Part IV post 😉 ). Anyway, here are those places which I visited.
The Golden Gate Bridge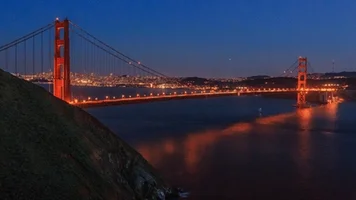 As this was my first time to San Francisco, obviously the first destination that I put in my list was the Golden Gate Bridge! Haha 😛 . Though, I actually went there on my second day because I already booked a tour to Alcatraz for my first day (more on this in the Part III post).
Anyway, I took the special hourly 76X bus service (it only ran on weekends and public holidays) to the southside of  the bridge where there was a small park overlooking the bridge. I was quite early this morning so the famous tourist spot was not that busy yet, haha. Of course I took some selfies (with the help of my gorillapod) with the super famous bridge; and realized that it was quite windy today.
After enjoying the view from the southside, I impulsively decided that I would like to cross the bridge, on foot! Lol 😆 . Here is the thing, while it was just a "bridge", the length of the Golden Gate was around 2.6 km from end to end. And of course I would not just cross the bridge and come back immediately. I would like to go to the Vista Point at the northside as well. This meant I would need to walk for more than 5.2 km to get back to where I came from. But hey, I was on vacation so why not? Lol 😆
Crossing the bridge was awesome and from on it we could see Downtown San Francisco and the Alcatraz Island too. It was even windier there on the bridge than it was at the southside park, btw. It took me about half an hour to get to Vista Point at the northside.
The Vista Point was also quite busy at the time, and I noticed that most people either drove there or took the Hop On Hop Off bus (like, obviously, lol 😆 ). However, if you would like to take a self picture with the bridge in December, the southside was definitely the better side. Because this time around the sun was in the southern hemisphere , you would get terrible backlight from the Vista Point.
After about 20 minutes at the Vista Point, I went back and crossed the bridge for the second time. This time, though, I realized that some people jogged on the bridge. Quite possibly they lived in San Francisco, and indeed I thought it was a great idea for some exercise! 😀 Because you know what, I made around 10,000 steps just from crossing the bridge and back! Anyway after arriving at the southside, which had become more crowded this time around but still manageable, I decided to take bus 28 and went back to Downtown San Francisco.
Pier 39 and the Fisherman's Wharf
Another popular district of San Francisco was the Embarcadero, where many marine-related establishments were located. It consisted of many different piers designated with odd numbers, and the most touristic one was Pier 39. Indeed Pier 39 was beautiful with many different cute shops and restaurants in it; but the most interesting attraction in this pier was definitely this:
Yep, those were sea lions; and there were many of them just lounging on those decks in Pier 39!!
Close to Pier 39 was the Fisherman's Wharf, which formerly home to many fishermen in San Francisco (hence the name). There were many shops and restaurants there, yet still felt organized and not overly crowded.
Union Square
I stayed at a hotel nearby the Union Square in Downtown San Francisco, which location I found very strategic! There were many shops, restaurants, supermarkets, and even a mall (The Westfield) nearby! The Union Square itself was also very beautiful with a big Christmas Tree and was surrounded by several different stores.
The Alamo Square and the Lombard Street
The Alamo Square was a park in San Francisco and was quite famous because The Painted Ladies, houses in Victorian architecture with beautiful colors, were located next to the square. Btw, there was free wifi at the park too 😛 .
Another famous attraction in San Francisco was the Lombard Street, a steep narrow one-way street with eight hairpin turns; and is claimed to be the "crookedest street in the world". This spot obviously attracted many people, which half came on foot (like me) and the other half came with cars to experience the street first hand! And indeed, if I were to drive a car in San Francisco, I would like to try out this street myself as well! Haha 😛
TO BE CONTINUED…
BAHASA INDONESIA
Posting-posting dalam seri 2017 Year End Trip:
1. Introduction
2. Part I: Getting to California
3. Part II: A Tourist in San Francisco
4. Part III: Alcatraz and Yosemite
5. Part IV: The City of San Francisco
6. Part V: The City of Los Angeles
7. Part VI: Hollywood and Griffith
8. Part VII: More of LA
9. Part VIII: Back to Europe in Business Class
Ada banyak tempat menarik di San Francisco, dan semuanya relatif mudah untuk dicapai dengan transportasi umum (yang mana adalah salah satu alasan mengapa aku suka San Francisco, ini akan kubahas lebih lanjut di posting Bagian IV 😉 ). Anyway, berikut ini beberapa tempat yang aku kunjungi.
Jembatan Golden Gate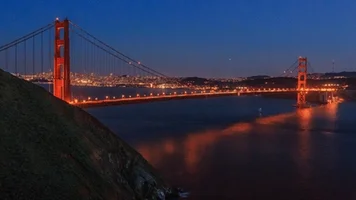 Karena ini adalah kunjungan pertamaku ke San Francisco, jelas dong ya tempat pertama yang kumasukkan daftar harus aku kunjungi adalah Jembatan Golden Gate! Haha 😛 . Walaupun kenyataannya aku baru ke sana di hari keduaku sih karena di hari pertama aku sudah booking tur ke Alcatraz (ini akan kuceritakan di posting Bagian III).
Anyway, aku naik bus rute khusus 76X yang jadwalnya satu jam sekali (rute ini hanya dijalankan di akhir pekan atau tanggal merah) ke sisi selatan jembatan dimana terdapat taman kecil darimana kita bisa melihat jembatannya. Ternyata aku datang cukup awal pagi ini sehingga tempat ini masih belum ramai-ramai amat, haha. Jelas dong ya aku foto-foto selfie di sana (dengan bantuan gorillapod-ku) dengan jembatan yang super terkenal ini. Oh ya, ternyata cuaca hari ini berangin banget lho.
Setelah menikmati pemandangan dari sisi selatan, aku spontan memutuskan untuk menyeberangi jembatannya, dengan berjalan-kaki! Haha 😆 . Begini nih, walaupun cuma "jembatan" doang, panjang Golden Gate adalah sekitar 2,6 km loh dari ujung ke ujung. Dan jelas aja lah ya aku nggak cuma akan menyeberanginya terus langsung kembali lagi. Aku ingin sekalian mampir di Vista Point yang berlokasi di sisi utara jembatan. Nah, ini artinya aku harus berjalan-kaki lebih dari 5,2 km untuk kembali ke tempat awalku. Ah, tapi kan ini aku sedang liburan ya jadi mengapa tidak? Haha 😆
Menyeberangi jembatan ini seru banget dan dari jembatannya kita bisa melihat Downtown San Francisco dan Pulau Alcatraz. Di jembatannya bahkan lebih berangin daripada di taman sisi selatan, btw. Aku membutuhkan waktu sekitar setengah jam untuk mencapai Vista Point di sisi utara.
Vista Point juga cukup ramai waktu itu, dan aku perhatikan kebanyakan orang kesana dengan cara naik mobil atau naik bus Hop On Hop Off (ya nggak mengherankan sih, haha 😆 ). Namun, jika ingin berfoto bersama jembatannya di bulan Desember, sisi selatan adalah sisi yang lebih baik. Karena di bulan Desember matahari berada di belahan Bumi selatan, berfoto dengan jembatannya dari Vista Point bermasalah dengan backlight yang kuat banget.
Setelah sekitar 20an menit di Vista Point, aku memutuskan untuk kembali ke sisi selatan dan menyeberangi jembatannya untuk kedua kalinya. Kali ini, aku baru menyadari bahwa ada banyak juga orang yang jogging di jembatan ini lho. Mungkin mereka tinggal di San Francisco, dan aku pikir memang ini adalah ide olahraga yang oke banget! 😀 Ya secara ya, aku ternyata telah melangkahkan-kaki sebanyak sekitar 10.000 langkah loh hanya dengan menyeberangi jembatan ini dua kali! Anyway, setelah tiba di sisi selatan yang mana sudah lebih ramai dengan turis sekarang, aku naik bus 28 untuk kembali ke Downtown San Francisco.
Pier 39 dan Fisherman's Wharf
Satu distrik populer lainnya di San Francisco adalah Embarcadero, dimana ada banyak bangunan yang berhubungan dengan kelautan berada. Tempat ini terdiri atas banyak dermaga (pier) yang diberi nomor dengan angka ganjil, dan yang paling turistik adalah Pier 39. Memang Pier 39 itu kece banget dengan banyak toko-toko dengan disain yang imut dan restoran di sana; tetapi atraksi paling menarik di dermaga ini jelas adalah ini:
Iyaa, itu adalah singa laut; dan ada banyak ya yang nampak santai-santai menikmati hidup di dek-dek itu di Pier 39!!
Di dekat Pier 39 terdapat distrik Fisherman's Wharf, yang mana sesuai namanya, dulunya adalah area para nelayan di San Francisco. Ada banyak toko dan restoran di sana, tetapi masih tetap terasa teratur dan tidak terlalu ramai.
Union Square
Aku menginap di hotel di dekat Union Square di Downtown San Francisco, yang mana lokasinya strategis banget! Ada banyak pertokoan, restoran, supermarket, dan bahkan sebuah mall (The Westfield) di dekat sana! Union Square-nya sendiri juga kece banget dengan Pohon Natal raksasa dan dikelilingi oleh banyak pertokoan.
Alamo Square dan Jalan Lombard
Alamo Square adalah sebuah taman di San Francisco dan cukup terkenal karena Painted Ladies, rumah-rumah dengan gaya arsitektur Victoria dengan warna-warna yang kece banget, berada. Btw, di tamannya ada free wifi juga loh 😛 .
Satu atraksi terkenal lainnya di San Francisco adalah Jalan Lombard, sebuah jalan satu arah yang curam banget dengan delapan tikungan super tajam; dan diberikan titel "jalan paling berliku-liku sedunia". Tempat ini menarik banyak orang untuk berkunjung, yang mana setengahnya datang dengan berjalan-kaki (kayak aku) dan setengahnya naik mobil untuk langsung merasakan jalan ini! Dan memang lho, kalau aku di San Francisco menyetir mobil kemarin, aku jelas ingin mencoba jalan ini sendiri! Haha 😛
BERSAMBUNG…