ENGLISH
Boat Trip
Last week's Monday, my team at the office (well, not officially a "team", but I won't get too much to details here as that is not point, haha) was able to secure our company's private boat for an evening tour in the canal of Amsterdam. Last year we had the same event at around the same time but I had to miss it because of a major train disruption; which prevented me from going to Amsterdam as I still lived in Delft at the time. And so obviously I was never going to miss this event this year! Haha 😆 . And also especially because the Amsterdam Light Festival was still on, making the trip even more exciting!
The tour departed at 4 PM where we boarded the company's private boat in front of the office. Even boxes of pizzas and drinks (including glühwein! 😍) were already prepared on the boat! We were quite lucky that the weather was great that day, despite it being quite cold with temperature at around 1°C, haha. The tour lasted for about 2.5 hours, and so indeed it was really nice!!
Star Trek: Discovery
Speaking of that Monday, the second part of Star Trek: Discovery was also finally released! Yep, after a (short-ish) break from mid-November, finally I got to watch the continuation!!
In short, I enjoyed the episode and thought that as a show, it was written well. Even though as I said before, indeed the whole series now has dropped the interpersonal/intrapersonal/social conflict aspect, which was core in many episodes of the other previous series, at the most part. Having said that, I am still excited to watch the coming episodes which shows that for whatever reason, this writing works on me!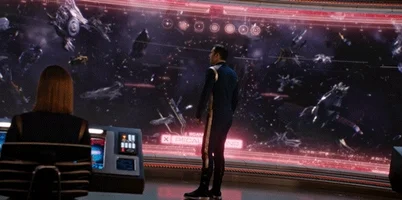 BAHASA INDONESIA
Tur Kapal
Hari Senin minggu lalu, timku di kantor (eh, bukan "tim" resmi sih sebenarnya, tapi ini tidak akan aku bahas sekarang deh karena bukan ini intinya, haha) bisa mem-booking kapal milik kantor untuk tur malam di kanalnya Amsterdam. Tahun lalu, kami juga mengadakan acara serupa di tanggal-tanggal seginian juga tetapi acaranya harus aku lewatkan karena gangguan besar di jaringan kereta api di Belanda hari itu; yang mana membuatku tidak bisa pergi ke Amsterdam (karena waktu itu aku masih tinggal di Delft). Jadi jelas dong ya aku nggak ingin melewatkan acara ini tahun ini! Haha 😆 . Dan apalagi juga Amsterdam Light Festival kan masih berlangsung, sehingga jelas turnya akan menjadi lebih seru!
Tur dimulai jam 4 sore dimana kami menaiki kapal kantor kami di depan kantor. Bahkan beberapa kotak pizza dan minuman (termasuk glühwein juga dong! 😍) sudah disiapkan di dalam kapal! Kami juga beruntung hari itu dimana cuacanya sedang kebetulan oke juga, walaupun dingin sih dengan temperatur sekitar 1°C, haha. Turnya mengambil waktu 2,5 jam-an, jadi memang seru banget!!
Star Trek: Discovery
Ngomongin hari Senin itu, bagian kedua dari Star Trek: Discovery juga akhirnya dirilis lho! Iya, setelah ada jeda (sejenak) semenjak pertengahan November, akhirnya aku berkesempatan menonton kelanjutannya!!
Secara singkat, aku menikmati episodenya sih dan sebagai sebuah acara, bagiku naskahnya ditulis dengan baik. Walaupun seperti yang kubilang sebelumnya, memang seri ini secara keseluruhan sudah sangat amat mengurangi aspek konflik interpersonal/intrapersonal/sosial, sebuah aspek yang menjadi inti di banyak episode seri-seri lainnya. Walaupun begitu, toh aku masih excited menunggu episode-episode berikutnya nih jadi pada akhirnya, strategi penulisan naskah seperti ini ternyata berhasil juga ya untuk menarik minatku!