ENGLISH
So the first chapter (i.e. the first nine episodes) of the first season (that is scheduled to have fifteen episodes) of the new Star Trek: Discovery has been concluded in mid-November. Of course I was really excited when the series was premiered earlier in the Fall; but now I have watched enough episodes to formulate my own opinion of the series. And here I would like to share that…
First of all, I have been enjoying the show. I find it exciting and the general story arc to be well written. Moreover, to me the characters are also very, very interesting as they focus not only on the senior officers (like typical other Star Trek series) but also on the "grass root" crewman level. The captain appears to be, at least a little bit, a "troubled" person, a trait which of course makes a show more exciting, and there seems to be a "silver bullet" in the Klingon side, the "antagonist" side of the series. Overall, I feel like the series is very rich in terms of the characters, that in my opinion is one of its strongest point.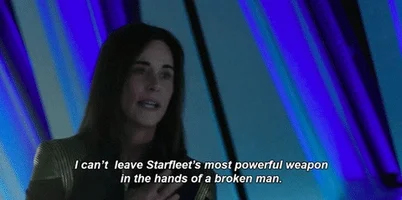 There are a few details which I don't like, however, mainly the spore drive technology which could make instantaneous travel to anywhere in the universe in no time (I find it "absurd" and it does not feel "right" especially considering that the series' timeline to be before The Original Series let alone The Next Generation and Voyager). I also don't like the design of the USS Discovery; but I have been feeling this way since the beginning anyway, haha 😆 .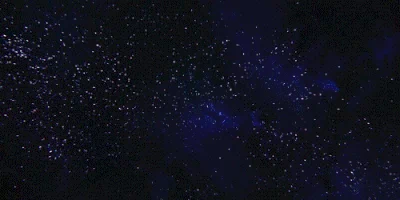 Having said that, there is one big factor which disappoints me. To me this series has lost a big part of a Star Trek show: the social/interpersonal/intrapersonal conflict aspect present in many episodes of the other series. You see, unfortunately the excitement of the story arc comes with the price of a lot of focus on the "action" side of thing (thus the "excitement"). The side effect of this is that, to me, despite watching a show involving Star Trek characters and setting, it does not feel like watching a Star Trek series.
One of the many reasons I like the Star Trek series is that many of their episodes portray certain interesting social interactions/conflicts which I can relate to my life (be it personal or professional), even to the point of challenging a status quo and presenting strong ethical conflict. These episodes make me think about the dilemma in those situations and in some of those about what would I do if I were in those situations; which I find enjoyable. Of course not all episodes are like this, where there are times here and there where action-oriented episodes are produced as well to keep the excitement level up. I understand that focusing too much on the social aspect could lead to a "boring" show which could translate to lower rating (which in my opinion is a reason why Enterprise in the early 2000s "failed"); but stripping this part off the show also feels like stripping off an identity of the series. Well, at least to me…
To be fair, it is not like the writers completely take the social conflict out of the script. There are still some, for instance in the episode where Captain Lorca was captured by the Klingon and Discovery was attempting to save him. The only way for the crew to do so was to torture an animal. However, these are still too few to my liking and even those conflicts feel, well, "juvenile".
***
Ingeniously, the first chapter ended with a cliff hanger, where the last "spore jump" they attempted went incomplete, stranding USS Discovery nobody knew where, and Lt. Paul Stamets, whom had to steer the ship physically in each jump, reached the limit of the side effect and broke down. I felt like this was an opportunity the writers made to "kill off" the spore drive idea (As we knew it would not work eventually anyway, otherwise the entire Star Trek: Voyager became irrelevant and stupid); and to start "fresh" the next chapter.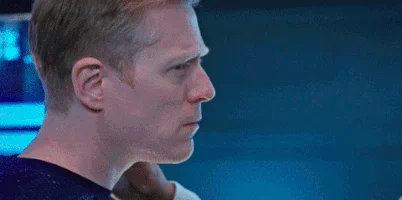 ***
Nevertheless, I guess the most important thing is that I still enjoy the show after all. It is just that I feel like the Star Trek identity has been lost a little bit. So it is interesting to see how the second chapter will pan out, and even the second season which apparently has been ordered!!
Do you watch the series? And if so, what do you think about it?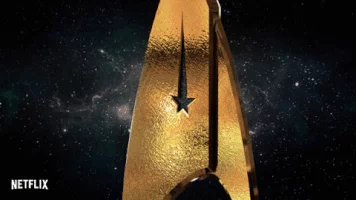 BAHASA INDONESIA
Jadi bab pertama (baca: sembilan episode pertama) dari musim pertama (yang dijadwalkan akan terdiri atas lima belas episode) seri baru Star Trek: Discovery sudah selesai ditayangkan pertengahan November ini. Tentu saja aku excited banget ketika acaranya mulai ditayangkan awal musim gugur ini; tetapi sekarang aku sudah menonton cukup episode untuk membentuk opiniku akan seri ini. Dan di posting ini aku akan membagikannya…
Pertama-tama, sejauh ini aku menikmati acaranya. Aku merasa acaranya seru banget dan jalan ceritanya juga ditulis dengan baik. Lebih jauh lagi, untukku karakter-karakternya juga amat menarik karena mereka tidak hanya fokus terhadap pejabat senior (seperti di seri-seri Star Trek lainnya) tetapi juga fokus kepada kru berpangkat "rendahan". Kaptennya sendiri juga nampak, sedikitnya, seperti seseorang yang "bermasalah" yang mana tentu membuat jalan ceritanya semakin menarik, dan sepertinya juga ada tokoh "peluru perak" di sisi Klingon, sisi "antagonis" dari seri ini. Jadi secara umum aku merasa bahwa seri kali ini sangat amat "kaya" dari segi karakter, yang mana merupakan satu poin kelebihan dari seri kali ini.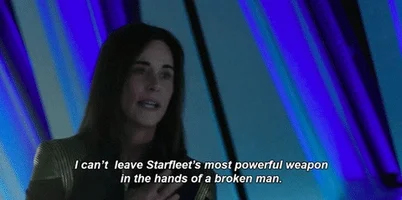 Ada beberapa detail yang tidak aku sukai, tapinya, yang mana terutama adalah teknologi berbasis spora jamur yang memunginkan mereka bisa bepergian secara instan ke seluruh penjuru alam semesta (Aku merasa konsepnya "konyol" dan membuatku amat tidak "sreg" terutama mempertimbangkan waktu jalan cerita seri ini yang adalah sebelum masanya The Original Series apalagi The Next Generation dan Voyager). Aku juga tidak suka disain kapal USS Discovery-nya; yang mana sudah aku sebutkan semenjak dulu sih, haha 😆 . I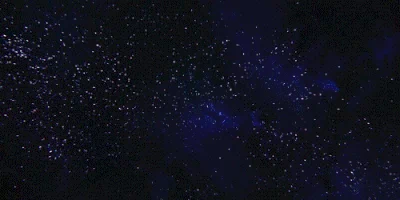 Namun, ada satu faktor besar lainnya yang mengecewakanku. Bagiku seri ini kehilangan satu identitas dari suatu seri Star Trek: konflik sosial/interpersonal/intrapersonal yang diangkat di banyak episode seri-seri Star Trek lainnya. Nah kan, sayangnya keseruan dari jalan ceritanya harus dibayar dengan banyak fokus di sisi "action" (yang mana mengakibatkan keseruan terbentuk). Efek samping dari ini adalah, bagiku, walaupun aku menonton suatu acara yang melibatkan karakter-karakter dan setting-nya Star Trek, entah mengapa aku merasa tidak seperti menonton suatu seri Star Trek.
Satu dari banyak alasan aku menyukai seri Star Trek adalah banyak episodenya yang mengangkat tema interaksi/konflik sosial/batin yang bisa aku hubungkan dengan kehidupanku (baik itu pribadi ataupun profesional), bahkan terkadang juga mempertanyakan status quo dan mengangkat tema konflik etika yang kental. Episode-episode ini membuatku berpikir akan dilema di situasi-situasi tersebut dan di beberapa darinya membuatku berpikir apakah yang akan kulakukan andaikata aku berada di situasi itu; sesuatu yang sangat aku nikmati. Tentu saja tidak semua episodenya seperti ini ya, dimana ada beberapa episode yang fokus kepada sisi action-nya supaya tingkat keseruannya masih terjaga. Aku paham sih kebanyakan fokus ke sisi sosialnya akan membuat acaranya menjadi "membosankan" yang ujung-ujungnya menyebabkan rating yang rendah (Menurutku ini lah alasan Enterprise di awal tahun 2000an "gagal"); tetapi di sisi lain sama sekali menghilangkan aspek ini dari acaranya juga terasa seperti menghilangkan satu identitas dari acaranya. Yah, setidaknya bagiku sih… .
Sebenarnya bukannya juga penulis sama sekali menghilangkan aspek konflik sosial dari jalan ceritanya sih. Masih ada kok, misalnya di episode dimana Kapten Lorca menjadi tawanan Klingon dan Discovery berusaha menyelamatkannya. Satu-satunya cara bagi krunya untuk bisa melaksanakan tugas itu adalah dengan menyiksa seekor binatang. Namun, bagiku konflik-konflik ini masih terlalu sedikit dan konflik yang ada pun terasa, hmm, "kekanakan".
***
Bagusnya, bab pertama ini berakhir dengan cliff hanger, dimana "loncatan spora" terakhir yang mereka lakukan tidak berlangsung secara penuh, sehingga USS Discovery terdampat entah dimana, dan Lt. Paul Stamets, yang harus secara fisik menyetir pesawatnya di setiap loncatan, mencapai batas dari efek samping yang harus ia derita darinya dan ambruk. Aku merasa ini adalah kesempatan yang memang dibuat oleh penulisnya untuk "membuang" ide mesin spora ini (Karena toh kita tahu mesin ini pasti pada akhirnya tidak akan bekerja, karena jika tidak keseluruhan cerita Star Trek: Voyager menjadi tidak relevan dan bodoh); dan untuk memulai bab selanjutnya dengan "segar".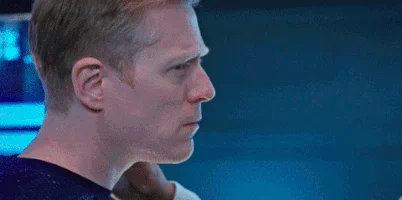 ***
Walaupun begitu, aku rasa yang paling penting sih toh aku masih menikmati acaranya ya. Hanya saja memang rasanya satu identitasnya Star Trek sedikit hilang. Jadi menarik juga melihat bagaimana bab duanya akan berlangsung, dan bahkan musim kedua yang mana ternyata sudah dipesan!!
Apakah Kamu juga menonton acara ini? Jika iya, apakah pendapatmu sejauh ini?