ENGLISH
Not too long ago, I mentioned about the (what I had thought) neutral Star Trek: Voyager topic which suddenly "lost" its neutrality so I, to some degree, was "forced" to publish it asap. And here is the reason why:
In an unexpected (for me) turn of event of the year, it turned out that a new Star Trek series was released this September: Star Trek: Discovery!! 😱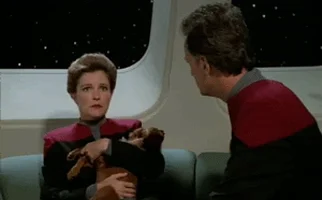 Yes people, there was a new Star Trek series!! As in a new one after Star Trek: Enterprise that was aired in the early 2000s!
Obviously as a self-proclaimed Trekkies, I was very excited about this! Luckily to me, I could find this series in the Dutch Netflix! So I guess afterall I would not need to worry about finding a new series to follow after marathoning the entire nine seasons of HIMYM anyway, haha 😛 .
***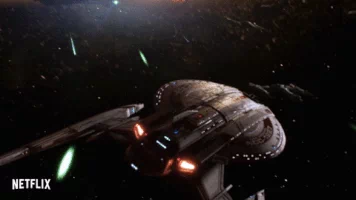 The first two episodes of the series were actually just "prologue", where not even all of the main characters were introduced yet. I found it interesting that watching those first two episodes actually felt more like watching a Star Trek movie (though with a cliff-hanger ending) rather than a two-part episode of a Star Trek TV-series. But I guess this was intended 🙂 .
This made the start of the show and the general outlook a "breathe of fresh air", IMO. The main character of the show, Michael Burnham, was sentenced for life at the end of the prologue. We entered the main setting of the show, USS Discovery, in the third episode following her point of view, as a "newbie" and an "outcast" (Remember that she is a prisoner) in an already established crew and ship in the middle of their mission. She was invited to join the crew by the USS Discovery's captain, Gabriel Lorca, himself who was, obviously, well aware of Burnham's status which he didn't care about.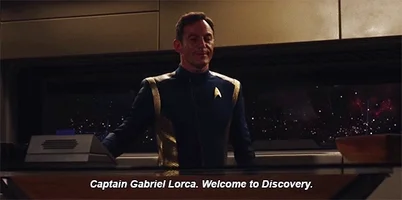 Indeed it is interesting that the captain here arguably is not the lead character of the show, unlike other Star Trek series!! On top of that, casting Jason Isaacs, the actor who played Lucius Malfoy in the Harry Potter movies, as the captain was a brilliant decision because the captain was depicted, somehow, like a "freak" at the beginning of the series. So I think it was a perfect match 🙈.
Anyway, the storyline took place at about 10 years before Star Trek: The Original Series timeline, and about 100 years before The Next Generation and Voyager. And so it felt a little bit funny to me that the technology in this series, due to the latest and more advanced CGI technique, appeared to be more advanced than those three other series while in the story, this series should have been much less advanced, haha 😛 .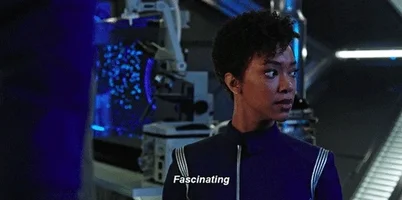 ***
When I first learned about the timeline, to be honest I was a little bit disappointed. I mean, the "reboot" movie installments (which three movies have been produced since 2009) also "anchored" themselves around The Original Series. And so I wish for the TV series, the writers would have chosen to fall closer to The Next Generation or Voyager timeline. But this was probably me being biased, as I was more familiar with The Next Generation or Voyager.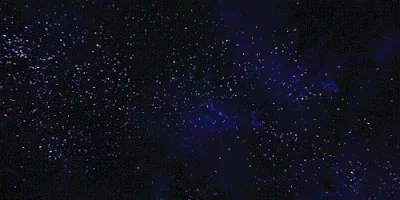 Oh, and one more thing, somehow I don't really like the design of USS Discovery.
Ah well, there is no use in complaining for now. I guess, it is better for me to just sit back, relax, and enjoy this unexpected surprise!! 🙂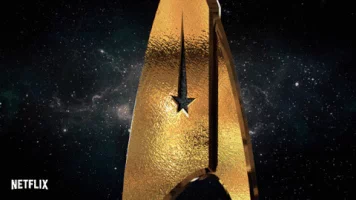 BAHASA INDONESIA
Belum berapa lama yang lalu, aku sebutkan bahwa topik yang (dulunya kukira) netral: Star Trek: Voyager tiba-tiba kehilangan "kenetralannya" sehingga "memaksaku" untuk mempublikasikan posting itu segera. Nah, ini lah alasan di balik itu:
Ternyata, tidak disangka-sangka (bagiku), sebuah seri baru Star Trek dirilis dong bulan September ini: Star Trek: Discovery!! 😱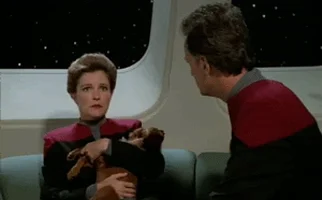 Iyaaa, satu seri baru dari Star Trek!! Baru dalam artian sekarang ada seri selanjutnya setelah Star Trek: Enterprise di awal 2000an!
Jelas dong sebagai orang yang mengaku-aku sebagai Trekkies, aku excited banget dengan ini! Beruntungnya aku, aku bisa menemukan seri ini di Netflix-nya Belanda loh! Jadi sepertinya memang aku tidak perlu galau mau menonton seri baru apa setelah selesai maraton menonton kesemua sembilan musim dari HIMYM, haha 😛 .
***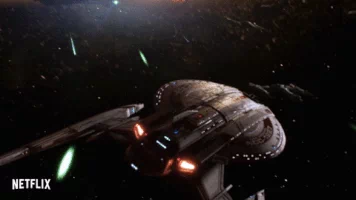 Dua episode pertama dari seri ini ternyata hanyalah "prolog" saja, dimana bahkan belum semua karakter utamanya diperkenalkan. Bagiku menarik dimana menonton dua episode pertama justru serasa seperti menonton filmnya Star Trek (walaupun dengan cliff hanger di ending-nya) bukannya episode dengan dua bagian dari serial TV-nya Star Trek. Tetapi mungkin memang sengaja dibeginikan sih ya 🙂 .
Ini membuat permulaan serinya dan serinya secara umum terasa "segar" untukku. Karakter utama seri ini, Michael Burnham, ceritanya dihukum penjara seumur hidup di akhir prolog. Nah, kita diajak memasuki setting seri ini, USS Discovery, di episode ketiga dengan mengikuti sudut pandangnya, sebagai "anak baru" dan "anak yang dijauhi/ditakuti/dibenci" (Ingat, dia ini berstatus tahanan penjara/napi) di dalam kru dan kapal yang sudah cukup "mapan" di tengah-tengah misi mereka. Ia diajak bergabung ke dalam kru langsung oleh kapten USS Discovery sendiri, Gabriel Lorca, yang mana tentu tahu mengenai status tahanan Burnham ini tetapi tidak ia pedulikan.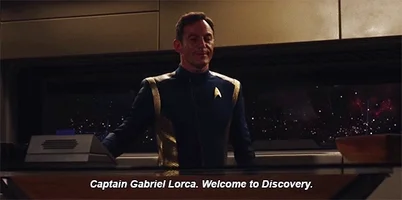 Memang menarik bahwa di seri ini, kaptennya bisa dikatakan bukan karakter paling utama dari acaranya, tidak seperti seri-seri Star Trek lainnya!! Di atas itu semua, pemilihan Jason Isaacs, aktor yang memainkan Lucius Malfoy di film-film Harry Potter, sebagai kaptennya juga adalah pilihan yang brilian karena kaptennya digambarkan seperti seorang yang "freak" gitu di awal serinya, haha. Jadi cocok kan ya 🙈.
Anyway, jalan ceritanya berlangsung kurang lebih 10 tahun sebelum masanya Star Trek: The Original Series, dan sekitar 100an tahun sebelum masanya The Next Generation dan Voyager. Jadilah rasanya lucu juga dimana aku merasa teknologi di seri ini, akibat CGInya yang jelas lebih modern dan canggih di zaman sekarang kan, nampak lebih "maju" daripada di tiga seri lainnya itu; padahal dari segi lini masa kan seharusnya masih belum semaju itu ya 😛 .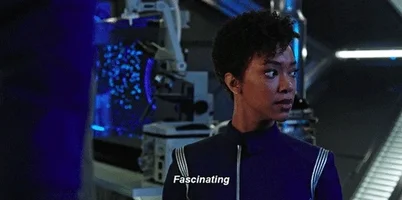 ***
Btw, ketika aku pertama kali tahu mengenai lini masa ini, sejujurnya aku sedikit kecewa. Maksudku, seri film "reboot"-nya (yang mana tiga film layar lebar sudah diproduksi sampai saat ini) kan juga "berpatokan" pada The Original Series. Jadilah bagiku seri TV ini akan lebih oke andaikata lebih dekat ke linimasanya The Next Generation atau Voyager kan; supaya adil gitu. Tetapi pendapatku ini mungkin sedikit bias sih, karena aku lebih familier dengan The Next Generation atau Voyager.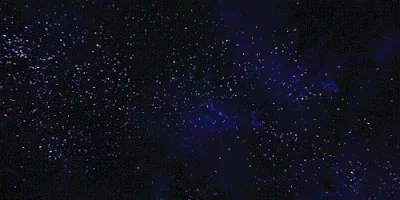 Oh iya, penting banget nih. Entah mengapa aku kurang menyukai disain pesawat USS Discovery, haha.
Ah sudahlah, nggak ada gunanya komplain sekarang kan. Aku rasa, sekarang ini lebih baik aku duduk manis, bersantai, dan menikmati kejutan tak terduga ini!! 🙂