ENGLISH
In June I shared about my new subscription with Netflix and how I found it surprising that I could not find Friends or The Big Bang Theory there but, at least, I got How I Met Your Mother (HIMYM). Anyway, because of this, since then I have been running a marathon on HIMYM and, as of recently, I finally finished all nine seasons! Haha 🙈.
I have quite a "long" history with HIMYM. I first watched it in Star World in 2007, quite possibly at this time, and was immediately captivated by its brilliant Pilot episode. I watched its first three seasons sporadically in Star World before moving to the Netherlands in 2010. And then, I learned about the possibility to catch it up online that was highly supported by the amazing internet speed, haha 😆 . So I went on a marathon to catch up (Star World was behind by two seasons, btw, as HIMYM was premierred in 2005 actually). And early in 2014, I watched its final episode.
And that, kids, is how I met your mother.

– Ted Mosby
You see, at the time I was very disappointed with the ending. I mean, I am all in with twists or surprises, as long as those "worked"; but this twist the writers chose for the ending of such a wonderful sitcom did not feel like "working", at least to me. I mean, I understood the "logic" behind it but this did not mean that I would like it, right? And I really didn't.
I thought time might change my mind. You know, afterall people change anyway. But here I am, after re-marathoning the entire nine seasons of HIMYM more than three years after the conclusion of its last season, I can say that my position on the show's finale turns out to still be the same. I still feel disappointed with the ending #consistency, haha 😆 .
Nonetheless, the show is not only about how it ends. There are a lot of gems in the show. And I am especially glad I got to watch the first a few seasons because I, honestly, had apparently forgotten quite many details about those so watching some of those episodes still felt like watching new ones at times, haha. So even though I am disappointed with the ending, I still enjoyed Ted's super long story on how he met his children's mother (read: his wife).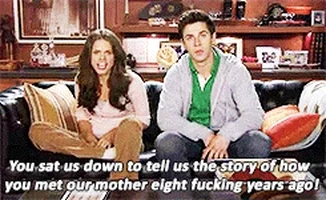 And so, despite the disappointing ending, I still can say this show is one of my favorites 🙂 .
Well, now that I have finished the entire nine seasons, I guess I need to find another (long) series to watch. Too bad the Game of Thrones is not on Netflix (My new colleague has become like the 5437th person who has recommended me to start watching this series, btw, haha 😆 ), hmm…
BAHASA INDONESIA
Juni lalu aku bercerita mengenai keanggotaan baruku dengan Netflix dan bagaimana aku cukup kaget aku tidak bisa menemukan Friends atau The Big Bang Theory di sana tetapi, setidaknya, masih ada How I Met Your Mother (HIMYM) sih. Nah, karena ini, semenjak waktu itu aku sudah marathon nonton HIMYM dan baru-baru ini aku sudah selesai menonton ulang semua sembilan musimnya dong! Haha 🙈.
Sejarahku dengan HIMYM ini cukup "panjang". Aku pertama kali menontonnya di Star World di tahun 2007, kurang lebih waktu ini, dan aku langsung terpesona dengan episode Pilot-nya yang brilian banget. Aku menonton tiga musim pertamanya secara loncat-loncat di Star World sebelum aku kemudian pindah ke Belanda di tahun 2010. Dan kemudian, aku menemukan yang namanya menonton acaranya online yang mana didukung dengan kecepatan internet yang oke banget untuk itu, haha 😆 . Jadilah aku menontonnya marathon untuk catch-up (Star World tertinggal selama dua musim, btw, karena HIMYM sebenarnya mulai ditayangkan di tahun 2005). Dan di awal tahun 2014, aku menonton episode terakhirnya.
And that, kids, is how I met your mother.

– Ted Mosby
Waktu itu aku merasa amat kecewa dengan akhir ceritanya. Maksudku, aku oke-oke saja sih dengan yang namanya plot twists atau kejutan-kejutan gitu, tentunya selama kejutannya "bekerja" dengan baik ya; tetapi aku merasa twist yang dipilih penulis naskahnya untuk akhir dari sitcom yang keren banget ini rasanya malah "gagal" gitu deh, setidaknya untukku. Maksudku, aku bisa memahami "logika" di baliknya sih tetapi bukan berarti aku akan menyukainya kan? Dan aku benar-benar tidak menyukainya waktu itu.
Waktu itu aku berpikir mungkin waktu akan mengubah pikiranku. Tahu kan, toh setiap orang itu bisa berubah, haha. Tetapi di sini lah aku, setelah marathon sepanjang sembilan musimnnya HIMYM lagi lebih dari tiga tahun semenjak akhir acaranya ditayangkan, aku bisa bilang bahwa pendapatku akan akhir dari acara ini ternyata masih sama. Aku masih merasa kecewa dengan akhirnya #konsisten, haha 😆 .
Toh walaupun begitu, acara ini bukanlah sekedar akhirnya saja kan. Ada banyak kok momen-momen seru dan bagus banget di sepanjang acara ini. Dan aku merasa senang aku bisa menonton lagi beberapa musim awal-awal karena aku, sejujurnya, ternyata sudah lupa beberapa detail ceritanya sehingga beberapa episodenya masih terasa baru untukku, haha. Jadi walaupun aku kecewa dengan akhir ceritanya, aku masih menikmati cerita super panjangnya Ted tentang pertemuannya dengan ibu dari anak-anaknya (baca: istrinya).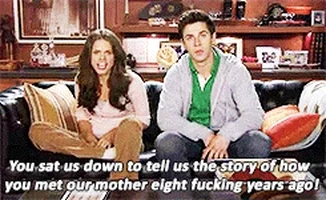 Dan jadilah, walaupun aku kecewa dengan akhirnya, aku masih bisa berkata bahwa acara ini adalah salah satu acara TV favoritku 🙂 .
Yah, sekarang dimana aku sudah menyelesaikan sembilan musim HIMYM, aku rasa aku membutuhkan acara (panjang) lainnya nih. Sayang Games of Thrones nggak ada di Netflix (Kolega baruku barusan menjadi orang ke-5437 yang merekomendasikanku untuk menonton acara ini nih, btw, haha 😆 ), hmm…