ENGLISH
It is not a secret that my two most favorite female tennis players, ever, are Venus Williams and Serena Williams. Currently, they are in their mid-30s and still play great tennis; especially Serena who is considered to be the greatest female tennis player of all time.
This January, the first grandslam tournament of the year was held, the Australian Open in Melbourne, Australia. Fortunately, both Venus and Serena were drawn into different halves, meaning they could only meet each other in the final (to be honest, nowadays I do feel like they are more often drawn in the same half of the draw than not, which is annoying to me, haha).
After six rounds, the tournament's draw looked like this:
Yes people, both Venus and Serena Williams made the final!! This Venus' reaction after winning her semifinals match against the 25 year-old Coco Vandeweghe pretty much summed up my emotion as well: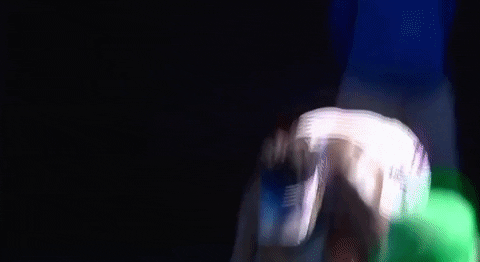 You might wonder why a player of Venus Williams' calibre was that excited just by reaching a grandslam final. There is a reason why.
In 2011, Venus announced to the world that she was diagnosed with Sjögren's syndrome, an auto-immune disease which zapped energy and caused pains. This was definitely not ideal for someone whose profession was a professional athlete. Consequently, she struggled with her tennis since then, losing matches to players she should have never lost and her ranking dropped. Many people wondered why she did not just retire, because to that point she had won so much anyway (be in tennis or financially (she already owned a few companies as well)). But she loved tennis. So much to the point that she was not going to let the incurable disease stop her.
Slowly she learned how to manage her disease while competing professionally. In the past two years or so, it started to pay off. She won more matches and bigger tournaments, ended 2015 ranked no.7, and spent much of 2016 in the top 10. But one thing was still missing: deep runs in the grandslams. She reached the semifinals of Wimbledon last year, but lost there to Angelique Kerber. Finally, her time came at this Australian Open, where she reached the final!!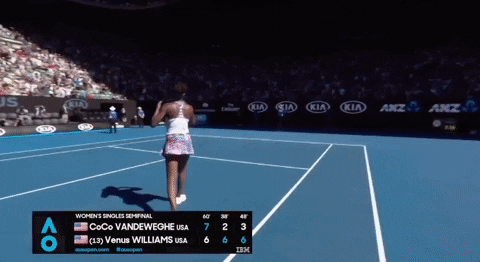 Better, in the final she played her sister, Serena Williams! Yes, the first all-Williams grandslam final since Wimbledon 2009, which happened to be Venus' last singles grandslam final prior to this one as well!
I took it for granted in 2009, though, confident that another all-Williams grandslam final would, for sure, happen again. Oh, little did I know that I would have to wait seven and a half years before the next one! At one point, I already made a peace with myself that it might never come to reality, haha. However, this made me enjoy this moment even more!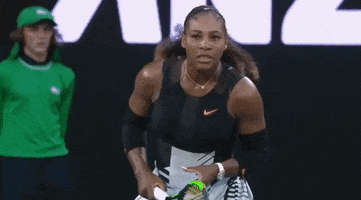 It was difficult for me to pick a side for the final, really. As I wanted both to win, haha. Amazingly, though, both played for different historical tennis record. For Venus, obviously, to win her eighth grandslam at the age of 36 would be amazing. For Serena, a victory would earn her her 23rd grandslam singles title, thus surpassing Steffi Graf's 22 and becoming the winningest tennis player, male or female, in the open-era!
So it was indeed a win-win situation to me, haha. The only thing I could do was to watch the match and enjoy this moment!! Not that I was complaining, of course! Watching the match felt quite weird, though, where I was genuinely happy with every single point, as all of them were won by the player I was supporting! Lol 😆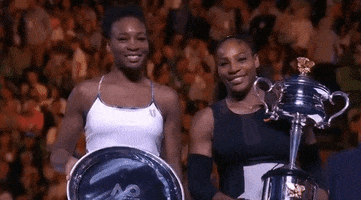 In the end, the result was as expected where Serena Williams ended up winning 6–4, 6–4. Thus surpassing Steffi Graf's record and putting herself just one shy of Margaret Court's all-time 24 grandslam singles title record. As a cherry on top, she also returned to world no.1 due to the victory, replacing Angelique Kerber from the top of the ranking.
Yup, overall, I am super happy with the result of this year's women's singles of the Australian Open!!
BAHASA INDONESIA
Bukan rahasia lagi bahwa dua petenis wanita favoritku, sepanjang masa, adalah Venus Williams dan Serena Williams. Sekarang ini, mereka berada di pertengahan umur 30an dan masih bermain tenis dengan ciamik; terutama Serena yang dianggap sebagai petenis wanita terhebat sepanjang masa.
Januari ini, turnamen grandslam pertama diadakan, Australian Open di Melbourne, Australia. Beruntung, Venus dan Serena berada di sisi undian yang berlawan, artinya mereka hanya bisa bertanding di babak final saja (sejujurnya, akhir-akhir ini kok aku merasa mereka lebih sering berada di sisi undian yang sama ya, yang mana menyebalkan bagiku, haha).
Setelah enam ronde, undian turnamennya nampak seperti ini:
Iyaaa, Venus dan Serena Williams masuk final doong!! Reaksinya Venus setelah memenangi pertandingan semifinalnya melawan Coco Vandeweghe yang berumur 25 tahun ini mewakili emosiku banget: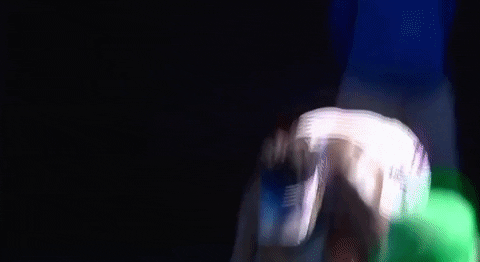 Haha, mungkin ada yang heran mengapa kok pemain sekaliber Venus Williams se-excited itu padahal cuma baru masuk babak final saja (kan belum juara). Ada alasannya.
Di tahun 2011, Venus mengumumkan bahwa ia didiagnosa menderita sindrom Sjögren, sebuah penyakit kekebalan tubuh yang menghisap energi penderitanya dan menyebabkan nyeri tubuh luar biasa. Kondisi begini jelas tidak ideal bagi seseorang yang profesinya adalah atlet profesional. Sebagai akibatnya, prestasi tenis Venus menurun, kalah dari pemain-pemain yang seharusnya tidak akan pernah menang melawannya, dan peringkatnya otomatis juga jatuh. Banyak yang heran mengapa ia tidak pensiun saja, toh sampai waktu itu dia sudah banyak menang juga kan (baik di tenis maupun secara finansial (ia sudah memiliki beberapa perusahaan sendiri)). Tetapi ia cinta tenis. Cinta sekali sampai-sampai ia tidak akan membiarkan penyakit yang tidak bisa disembuhkan ini menghentikannya.
Perlahan-lahan ia belajar bagaimana mengelola penyakitnya sambil bertanding secara profesional. Dua tahun belakangan, usahanya mulai membuahkan hasil. Ia mulai lebih banyak memenangi pertandingan dan turnamen-turnamen cukup besar, mengakhiri tahun 2015 dengan peringkat 7, dan berada di peringkat 10 besar di hampir sepanjang tahun 2016. Tetapi ada satu hal yang masih hilang: prestasi yang baik di turnamen grandslam. Ia masuk babak semifinalnya Wimbledon tahun lalu, tetapi kalah dari Angelique Kerber. Akhirnya, waktunya tiba juga di Australian Open ini, dimana ia masuk final!!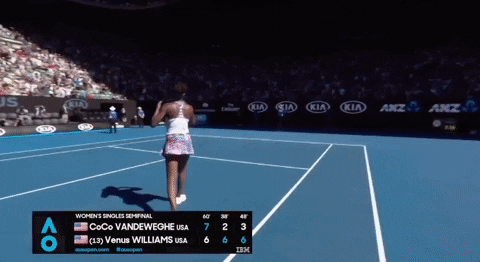 Lebih seru lagi, di final ia bertanding melawan adiknya, Serena Williams! Iyaaa, final grandslam all-Williams pertama semenjak Wimbledon 2009, yang mana kebetulan juga kali terakhir Venus masuk babak final tunggal putri grandslam sebelum ini!!
Di tahun 2009 aku meremehkan situasi, dimana aku percaya banget final grandslam all-Williams selanjutnya pasti akan terjadi lagi. Oh, nggak tahu bahwa aku harus menunggu tujuh setengah tahun sampai yang selanjutnya! Di satu waktu, aku sudah rela untuk menerima kemungkinan bahwa mungkin itu tidak akan menjadi kenyataan, haha. Ah, tapi ini justru membuatku untuk lebih menikmati waktu ini sih!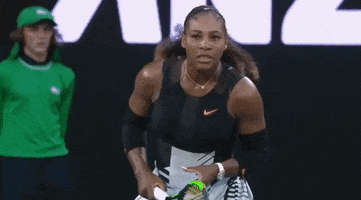 Sulit bagiku untuk memihak di babak final ini, beneran. Aku ingin keduanya menang aja deh, haha. Kerennya, keduanya bermain untuk menorehkan rekor bersejarah di tenis. Untuk Venus, memenangi gelar grandslam kedelapannya di usia 36 tahun tentu keren banget. Untuk Serena, kemenangan akan memberikannya gelar tunggal grandslam ke-23, artinya melewati rekor 22nya Steffi Graf dan menjadi petenis, putra atau pun putri, yang paling banyak menang di sepanjang sejarah Era Terbuka tenis!
Haha, jadi memang situasinya win-win sih untukku. Yang bisa aku lakukan adalah menonton pertandingannya dan menikmati waktu dan kesempatan ini!! Tentu saja aku tidak komplain! Menonton pertandingan ini rasanya aneh sih, dimana aku merasa senang di setiap poin, karena semuanya dimenangi oleh pemain yang aku dukung! Haha 😆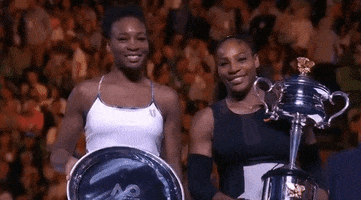 Namun, pada akhirnya hasilnya sih sesuai dengan perkiraan banyak orang dimana Serena Williams menang 6–4, 6–4. Artinya ia telah memecahkan rekornya Steffi Graf dan sekarang kurang satu saja untuk menyamai rekor all-time-nya Margaret Court sebanyak 24 gelar tunggal grandslam. Sebagai bonus, ia juga kembali ke posisi peringkat 1 dunia akibat kemenangan ini, melengserkan Angelique Kerber dari puncak ranking.
Yup, secara keseluruhan, aku sungguh merasa senang banget dengan hasil tunggal putri Australian Open tahun ini!!