ENGLISH
It is no secret that I really enjoy my life here in the Netherlands. Well, I have lived here for almost six years, have the Dutch permanent residence, and have no plan to move to another country in the near future. If I did not like it, none of the three things above would have come true obviously.
But as in everything in life, we can't have it all. To put it lightly, it is not realistic to expect a super-perfect-full-of-rainbow-and-unicorn-and-all-is-happiness-with-no-regret-at-all life. You can see where this post will go now. Yes, there are "cons" aspects of living in Europe for me as well.
***
Probably one of the biggest "cons" of my decision to live in Europe is "missing out" on my relatives and friends' big events (mostly weddings) in Indonesia. You see, Jakarta is more than 10,000 km away from the Netherlands so travelling to Indonesia (moreover, beyond Jakarta) is, indeed, not "easy".
But then you might ask me, "But you did go to India and Mexico to attend your friends' weddings? And India and Mexico are also far away from Europe!" Well, that is true. However, let me tell you that my Indian and Mexican friends had invited me to the weddings about ONE YEAR before the D-days. This gave me plenty of time to shape my plans accordingly; and, of course, to find some good deals to travel there.
Yes, indeed to me the biggest problem is that I need to plan my long-distance trips in advance. Of the invitations which I have got all this time, on average I got them about one month before the D-Day (even for one of them I got the invitation like one week before! 
 ). This made it very difficult for me to allocate some time to go to Indonesia in such short notice. The flight ticket is often not really a big issue because, given that it is not during a peak season,  sometimes it is not difficult to find cheap-ish to reasonably-priced return flight ticket to Indonesia. This is thanks to the connectivity of most major Indonesian cities to Singapore and Kuala Lumpur as well (aside from Jakarta) which allows greater number of flights combinations, thus increasing the chance to get a well-priced ticket.
Time is the problem. First of all, usually I have planned something else along the way (I think I am addicted to planning, btw). And of course I need to find a longer stretch of days to get off work for this kind of long-distance trips. For that, however, I must be careful with my holiday allowances and, of course, those targets and tasks. Often, this is not very easy to be put aside. 
A good friend of mine got married this May. Early in April, he invited me to come. If I could, I really wanted to come because we spent so much time together in high school. However, the problem was that the wedding would coincide with my conference trip to Munich which I could not cancel at that point.
But I had my biggest "regret" actually earlier this month when my brother had his engagement party in Indonesia. I was told of this plan in May. The problem was, it was extremely difficult for me to find some time mainly because I was at the tail-end of my PhD. July would be the penultimate month of my contract so for sure there would be a lot of stuffs to be taken care of. Plus, there was still a collaboration research that was going on as well. I told him that it would be very likely that I would not be able to come. Of course he understood and it was "just" an engagement party anyway (the wedding is still far in the future so I definitely have a lot of time to plan accordingly for that one 😉 ); so he did not really mind that I would not be able to come.
I honestly thought of making a surprise visit by allocating about 4 days to go to Indonesia just for the party. I found a really good deal for a return ticket from Amsterdam to Kuala Lumpur for the dates that I wanted. The problem was, the early of July was the peak season in Indonesia (with the Eid and school holidays) so the return ticket from Kuala Lumpur to Indonesia was almost as expensive as the Amsterdam – Kuala Lumpur return ticket! 😦 Yeah, unlucky 😦 .
But well, I just had to live with it. I did send a video congratulating them for the engagement though. So at least it was not like that I did not get involved at all, haha 😆 .
***
How do I feel about it? Well, to be honest I do not think nor feel about it because I do understand that this is the "consequence" of the life decision that I have made. If I let it affect me, I would probably have felt a little bit "left-out". You know, seeing all those Instagram photos where people (that I know) gather together and make use of those events as opportunities for some reunions. And when I go back there, I see that people have moved on with their lives, etc.
However, I also remind myself that, well, a coin has two sides. I have also moved on with my life. I have my own life too now, in Europe, a life which I thoroughly live and enjoy. I guess I can't really complain as life is good afterall.
Well, I guess as the French says it: "C'est la vie".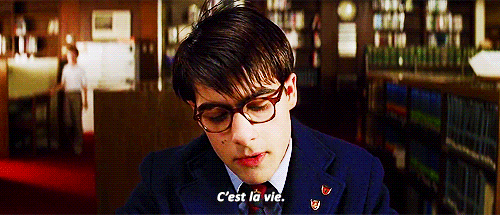 BAHASA INDONESIA
Bukan rahasia lagi bahwa aku suka dengan kehidupanku di Belanda. Ya iya lah ya, aku sudah disini selama hampir enam tahun, memiliki permanent residenceship-nya Belanda, dan tidak memiliki rencana pindah ke negara lain dalam waktu dekat. Jika aku tidak menyukai kehidupanku disini, jelas tidak ada satu pun dari tiga hal di atas yang akan menjadi kenyataan tentunya.
Tapi yang namanya hidup kan ya, kita tidak bisa mendapatkan semuanya. Untuk diungkapkan dengan sopan, sangat tidak realistis untuk mengharapkan suatu kehidupan yang super-sempurna-penuh-pelangi-dan-unicorn-dan-hanya-berisi-kebahagiaan-di-sepanjang-segala-masa. Haha, mungkin sudah pada menebak nih arah posting ini kemana. Iya, tentu saja ada pula "ketidak-enakan" dari hidup di Eropa.
***
Salah satu "ketidak-enakan" terbesar dari pilihanku untuk hidup di Eropa adalah "melewatkan" acara-acara besar dan pentingnya keluarga dan kenalan-kenalanku (biasanya sih pernikahan) di Indonesia. Jakarta berjarak lebih dari 10.000 km dari Belanda sehingga pergi ke Indonesia (apalagi lebih jauh dari Jakarta) itu tidak "mudah".
Tetapi mungkin ada yang kemudian berkomentar, "Ah tapi kamu kan pergi ke India dan Meksiko untuk menghadiri pernikahannya temanmu? Dan India dan Meksiko itu kan juga jauh banget dari Eropa!" Iya sih, itu memang benar. Namun, perlu kusampaikan bahwa temanku orang India dan Meksiko sudah mengundangku ke pernikahan mereka semenjak sekitar SATU TAHUN sebelum hari-H pernikahan mereka. Ini memberiku sangat banyak waktu untuk menyusun rencana-rencanaku; dan, tentu saja, untuk mencari tiket yang oke kesana.
Yup, memang masalah terbesarku adalah perjalanan-perjalanan jarak jauh perlu aku rencanakan semenjak jauh-jauh hari sebelumnya. Nah, dari undangan-undangan yang kudapatkan selama ini, rata-rata aku mendapatkannya sekitar satu bulan sebelum hari-H (bahkan aku pernah mendapatkan undangan seminggu sebelumnya!
 ). Ini membuatku berada di posisi yang amat sulit untuk pergi ke Indonesia "mendadak" begitu. Oke, tiket pesawat biasanya bukan masalah besar karena, selama waktunya bukan lah ketika musim ramai, biasanya tidak sulit untuk mendapatkan tiket dengan harga lumayan murah atau setidaknya pantas lah untuk tiket pp ke Indonesia. Ini tentu saja berkat terhubungnya kebanyakan kota utama di Indonesia dengan Singapura dan Kuala Lumpur (selain Jakarta) sehingga ada banyak banget kombinasi penerbangan yang bisa dipilih, sehingga kemungkinan menemukan tiket yang harganya oke itu besar.
Waktu adalah masalah terbesar. Pertama-tama, biasanya aku sudah terlanjur merencanakan rencana lain (mungkin aku kecanduan dengan membuat rencana, btw). Dan tentu saja aku perlu menyisihkan waktu yang lebih panjang untuk cuti dari pekerjaan untuk perjalanan jarak jauh begini. Untuk itu, aku juga harus berhati-hati dengan jatah cutiku dan, tentu saja, dengan target-target dan tugas-tugas yang harus kuselesaikan. Sering, ini tidak gampang lho untuk dikesampingkan atau ditunda. 
Seorang teman baikku menikah bulan Mei lalu. Awal bulan April, ia mengundangku untuk datang. Jika aku bisa, aku ingin banget datang sebenarnya karena dulu ketika SMA kami sering main bareng. Namun, masalahnya adalah pernikahannya diadakan bebarengan dengan jadwal perjalanan konferensi ke Munich yang mana waktu itu sudah tidak bisa lagi kubatalkan.
Tetapi "penyesalan" terbesarku kurasakan awal bulan ini dimana adikku mengadakan pesta pertunangannya di Indonesia. Aku diberi-tahu rencana ini bulan Mei lalu. Masalahnya adalah, sungguh sangat amat sulit bagiku untuk mencari waktu karena aku berada di penghujung akhir studi PhD/S3-ku. Bulan Juli adalah bulan kedua terakhir dari kontrakku sehingga ada banyak banget yang harus dikerjakan dan diurus. Apalagi, masih ada suatu riset kolaborasi yang harus juga aku kerjakan. Aku bilang bahwa kemungkinan besar aku tidak bisa datang. Adikku mengerti dan toh ini "hanya" lah pesta pertunangan aja kan (pernikahannya sih masih lama jadi aku jelas memiliki banyak sekali waktu untuk membuat perencanaannya 😉 ); jadilah ia tidak berkeberatan aku tidak bisa datang.
Sejujurnya aku sempat terpikir untuk membuat sebuah surprise visit dimana aku mengalokasikan 4 hari ke Indonesia hanya untuk pestanya saja. Aku menemukan sebuah tiket pp promo banget dari Amsterdam ke Kuala Lumpur untuk tanggal yang kuinginkan. Masalahnya adalah, awal Juli ini adalah musim ramai di Indonesia (dengan liburan Idul Fitri dan masa liburan sekolah) sehingga harga tiket pp dari Kuala Lumpur ke Indonesia waktu itu hampir sama dengan harga tiket dari Amsterdam ke Kuala Lumpur!  😦 Ya gitu deh, waktunya nggak pas 😦 .
Ya sudah, mau nggak mau mesti dijalani saja kan. Aku mengirimkan sebuah video yang menyelamati mereka sih. Sehingga setidaknya kan aku masih terlibat gitu sedikit-sedikit, haha 😆 .
***
Bagaimanakah perasaanku mengenai ini? Ya, sejujurnya sih ini tidak aku pikirkan atau rasakan sama sekali karena aku paham bahwa ini adalah "konsekuensi" dari pilihan hidup yang sudah kubuat. Jika aku membiarkannya mempengaruhi diriku, mungkin aku akan merasa sedikit "terasing". Tahu lah, melihat foto-foto di Instagram dimana orang-orang (yang kukenal) berkumpul bersama dan memanfaatkan acara semacam ini sebagai kesempatan untuk reunian? Dan juga ketika aku pergi kesana, aku lihat teman-temanku sudah move on dengan kehidupannya masing-masing, dll.
Namun, aku juga mengingatkan diriku bahwa koin memiliki dua sisi. Aku juga sudah move on dengan kehidupanku. Aku memiliki hidupku sendiri sekarang, di Eropa, di sebuah kehidupan yang aku nikmati. Jadi rasanya aku tidak bisa komplain juga ya karena toh hidupku juga baik-baik saja kok.
Yah, memang ujung-ujungnya seperti kata orang Prancis sih: "C'est la vie".